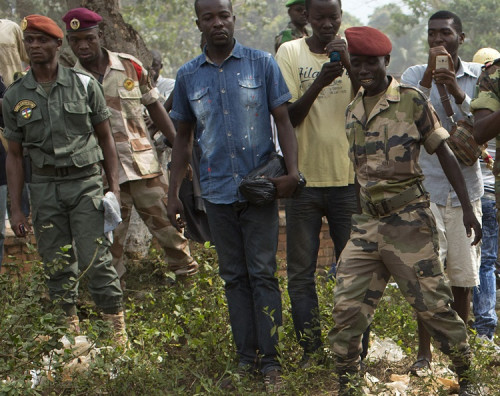 A Muslim man has been killed and dismembered by a Christian mob in the Central African Republic.
He was part of a large convoy of terrified residents trying to flee unrest in the capital, Bangui.
Witnesses say Christians initiated the barbaric attack after the man fell off a truck.
His body was found abandoned on the roadside with a deep gash in the forehead and a missing lower left arm and leg.
The latest killing comes two days after a Central Africa Army soldier murdered a man suspected of being a Muslim rebel before dragging his body through a street in Bangui. Soldiers posed for photographs with the corpse before it was set ablaze.
The man was killed minutes after Catherine Samba-Panza, the President, addressed the soldiers asking for order to be restored after months of violence that has left thousands dead or homeless but expressed pride in the "reunited" army.
Sectarian tensions between Christians and Muslims have worsened following last year's ousting of President Francois Bozize by the Muslim Seleka rebel movement.
The grave situation is being compared to scenes reminiscent of the "ethnic cleansing" that marked the conflict in the Balkans during the early 1990s, with neighbourhoods of the capital being cleared of their Muslim inhabitants as the country's sectarian chasm deepens. Homes and businesses have been looted and mosques set alight.
Peter Bouckaert, the emergencies director for Human Rights Watch, said: "It really is an horrific situation. All over Bangui, entire Muslim neighbourhoods are being destroyed and emptied.
"Their buildings are being destroyed and being taken apart, brick by brick, roof by roof, to wipe out any sign of their existence in this country."
The frightened Muslims who were fleeing Bangui on Friday were trying to make their way to neighboring Chad, a predominantly Muslim country.
Reuters news says French and African peacekeeping soldiers used tear gas to disperse the crowd that had gathered around the Muslim victim.
A prosecutor at the International Criminal Court said she was considering opening an investigation into crimes committed in the Central African Republic.
Fatou Bensouda said: "The plight of civilians since September 2012 has gone from bad to worse."