Cesc Fabregas says he is fine to play in any position that Vincent Del Bosque places him in, with the former Arsenal man overjoyed to be adding more trophies to the cabinet with his Spanish teammates.
Fabregas was often started in the absence of a striker during the tournament, and despite having a lack of presence up front, the side still stormed into the final and beat Italy 4-0.
And the 25 year old, who left Arsenal for Barcelona last summer, said that he's happy in any position despite naturally being played in the midfield.
"It has been different. I am a midfielder who plays behind the striker, that is where I play the most," Fabregas told Sky Sports.
"But I felt very good and I feel very proud and honoured to play with this team.
"But to me playing as a No.9, No.10 or No.8, it doesn't matter. The most important thing is the attitude and discipline of this team has been spot on since day one, and we showed the world that we have a style of play and we can win with that."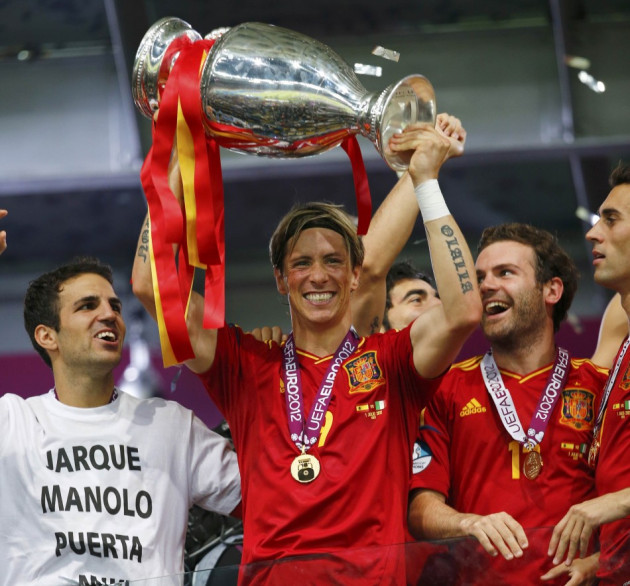 For Spain, this is the third major tournament in a row in which they've brought home the trophy. And Fabregas believes that the side can continue their dominance over the rest of the world with a group of players who are currently in their prime.
"Considering we are 23, 24, 25, 26, most of us, except two or three, it says we can keep going," he explained.
"But it depends on us. We have to really behave properly, we have to want more and be hungry for success.
"Definitely this team has been showing that for the past four years and we have to keep going.
"Every year it will become more difficult because teams will want to beat us more, but we just want to enjoy tonight and then we will think about the Confederations Cup next season."
Many pundits have criticised Spain's tactics in the lead-up to the final, with Arsenal manager Arsene Wenger the most recent to argue that the side have been very negative in their game plan.
"These guys are more than outstanding footballers; they are really intelligent and they are winners. I want to give them credit for that," he wrote for Yahoo Sport.
"However, they have betrayed their philosophy and turned it into something more negative. Originally they wanted possession in order to attack and win the game; now it seems to be first and foremost a way not to lose."
But Fabregas, who played under Wenger at Arsenal for eight years before moving back to his youth home in Spain, believes that the statistics tell a different story, with the star arguing: "Defensively we have been very compact and strong, only conceding one goal and scoring 12. I don't think that is a boring team."