Ceta: Germany Warned only 'Minor Adjustments' Possible to ISDS in EU-Canada Trade Deal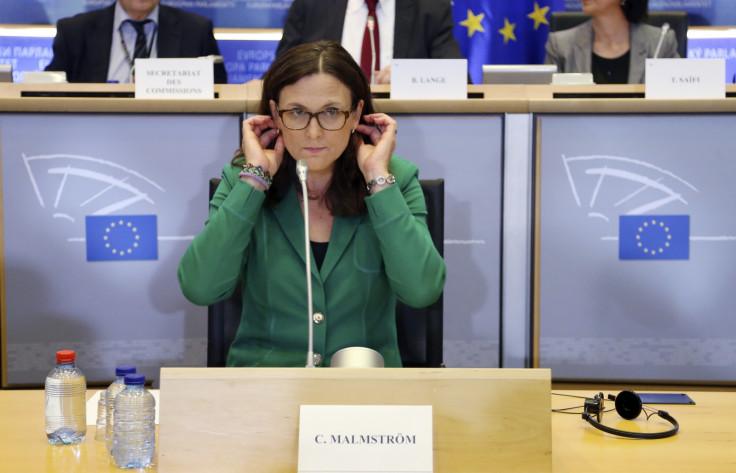 The European Trade Commissioner has warned Germany that only minor alterations can be made to the investor protection clause in the EU's free trade agreement with Canada.
Euractiv reports that at a press conference alongside the German Minister for Economic Affairs Sigmar Gabriel, Cecilia Malmström said: "There can be minor clarifications and adjustments."
The Comprehensive Economic and Trade Agreement (Ceta) has already been finalised and after up to two years of "legal scrubbing", will pass to the European and national parliaments for ratification.
Gabriel – under pressure from the left-wing elements of his Social Democratic Party (SPD) – has been one of the strongest critics of the clause, lobbying for its removal from both Ceta and the EU-US trade agreement, the Transatlantic Trade and Investment Partnership (TTIP).
However, at the news conference, his comments appeared more acquiescent: "It will not be possible to take the dispute settlement procedure out of Ceta. We are acting in a European context and must listen to the views of other countries."
ISDS is the tenet of international trade law that allows an investor the right to take a foreign government to dispute settlement proceedings, usually when the host state violates the rights granted to the investor.
It's understood that Gabriel has an "extensive wish list" of sectors of the German economy which he would like to see exempt, due to fear among his party and the general public that it will lead to a lowering of standards and to investors bringing legal proceedings against the German government.
The main areas of concern in Germany are labour (especially minimum wage), environmental (particularly fracking) and social (with strong opposition running against any potential removal of rental subsidies).
Gabriel is also thought to be keen to exclude public debt restructuring from the ISDS clause of either agreement, so that the EU is free to intervene in the Eurozone to absorb the indebtedness of member states.
"He [Gabriel] would push for many exemptions if he could, but it's difficult because he supported the mandates [for both Ceta and TTIP]. He says he is in favour of TTIP but not ISDS. He has to find a balance between his own party and his economic policy," Dr Claudia Schmucher, Head of the Globalisation and World Economy Programme at the German Council on Foreign Relations (DGAP) told IBTimes UK.
"The German government is saying: 'For us, this is new. Because previously it would have been the other way around.' Now there is the fear that Germany will be sued by the 'evil Americans'," she added.
Last week a senior Portuguese government official has accused Germany of creating an uneven playing field by trying to ISDS from TTIP. Speaking in London, Portugal's Secretary of State for Europe Bruno Maçães said that he was "surprised when some countries that invented ISDS consider it to be evil".
© Copyright IBTimes 2023. All rights reserved.