Chad's former dictator Hissène Habré has been accused of raping children as young as 13 during his rule, it has emerged. Habré, who ruled Chad from 1982 to 1990, is facing trial before the Extraordinary African Chambers in the Senegal court system on charges of crimes against humanity, torture, and war crimes.
In March, IBTimes UK reported that in a groundbreaking decision, a Chadian court had convicted 20 officials of carrying out acts of torture under Habré's dictatorship. During the hearing on 22 October, four women described their experiences in the desert camp at Oudi-Doum, northern Chad, where nine women and girls were allegedly forced to serve the soldiers of Hissène Habré's army.
13-year-olds raped
The women explained how soldiers repeatedly raped them after they were allegedly sent to the desert in 1998 as sex slaves. One of them testified that Habré himself had also raped her. One was 13 at the time, and another said that soldiers raped her 13-year-old daughter.
"These brave women have broken a long silence to talk about the most painful things possible," said Reed Brody, counsel at Human Rights Watch (HRW), who has worked with the victims since 1999.
"The use of women and girls as sexual slaves has not always received the attention it deserves, but after almost 30 years, this trial offers these women the opportunity to finally place their abuses on the record."
One of the women, Khadidja Hassan Zidane, told the court how she was imprisoned on the presidential grounds before travelling to the desert, and that Habré had raped her on four occasions.
Another, Haoua Brahim, was arrested when she was just 13 - Amnesty International mounted a campaign to release her and her mother in 1988.
Hadje Mérami Ali told how after her arrest, her 13-year-old daughter Azina was also arrested. They were both sent to Oudi-Doum where, she claimed, soldiers raped her young daughter.
Victim Kaltouma Deffalah said that she was "very proud and strong to be here today telling (her) story when this man (Habré), who was once the dictator, is sitting there silently."
Habré: victims were 'nymphomaniac'
According to documents of Habré's secret political police Documentation and Security Directorate (DDS) recovered by HRW, nine women were effectively sent to the desert.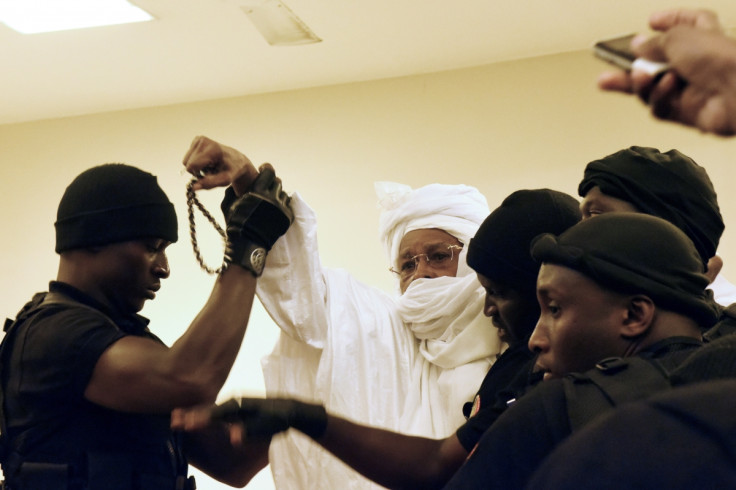 The official website of President Hissein Habré, which as been presenting Habré's position for the last three years, published a series of communiqués, in which Hassan is described as a "nymphomaniac prostitute" and Merami Ali as a "cabaret dancer" and a prostitute. Dubbed "Africa's Pinochet" by his critics, Habré is accused of tens of thousands of political killings as well as systematic torture during his reign.
Now in its seventh week, the trial is the first in the world in which the courts of one country prosecute the former ruler of another country for alleged human rights crimes. So far, 48 victims and witnesses have testified.