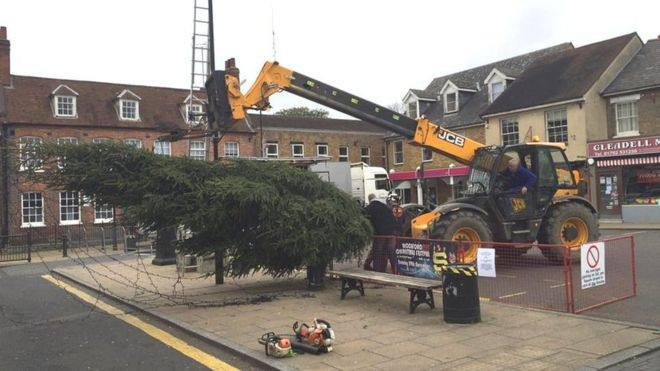 'Twas the night before Christmas tree lights were due to be switched on in a small Essex town, when vandals struck and chopped it right down. But locals in Rochford refused to let their event be ruined.
Following a social media appeal by council chairman Heather Glynn the tree and lights were restored in time for the switch on. An Essex Police spokesman told the IB Times that they "believed a chainsaw had been used to fell the tree" at sometime between 11pm on 28 November and 6am on 29 November.
They added that "it was definitely premeditated" and they were seeking any witnesses to the attack.
However, Cllr Glynn said: "Fortunately the lighting event was not until the afternoon and people were determined not to let the vandals beat them," she told the BBC, adding that she was in despair when the discovery was made.
"It was an act of mindless vandalism," festival organiser Pete Tobit told the broadcaster. "Nothing stolen, just cut down."
But after people turned up to help restore the light he said it had restored his faith in community spirit.