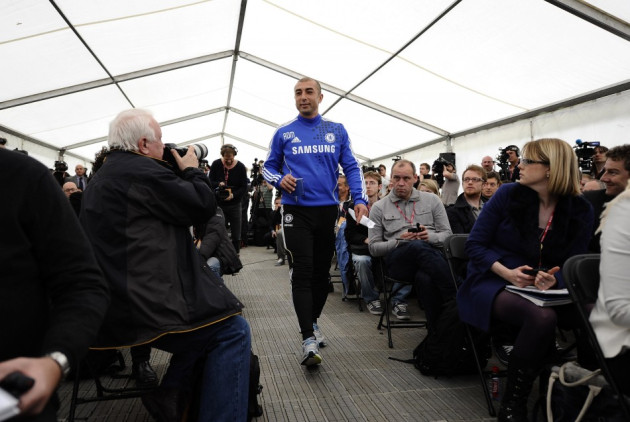 Three days ahead of the most significant match of Roberto Di Matteo's career the interim Chelsea coach appeared a relaxed man at his press conference at Cobham on Tuesday. Those who questioned whether the outcome of the Champions League final could determine his future at Stamford Bridge were dismissed as Di Matteo preferred instead to focus on what European success could do for the club's history.
Nevertheless, self-promotion has never been part of the Italian's strategy. Even with his future unresolved, Di Matteo preferred to concentrate solely on winning at the Allianz Arena on Saturday. "That's all I'm thinking about," he said. "I am very happy with the position I am in and I'm looking forward to preparing this team for the final on Saturday."
Bayern Munich stand between Chelsea and the Champions League trophy Roman Abramovich so desires. But the German side present formidable opponents, particularly in their own backyard, and Di Matteo refused to discuss his own future, should the Blues prevail on Saturday evening.
"I'm very relaxed about it," the Chelsea manager said. "I have a big drive and big motivation to do something extraordinary for this club. Whatever comes afterwards there's always a reason why things happen."
Di Matteo's stock has risen so high during his caretaker spell leading Chelsea to an FA Cup trophy and to the Champions League final that he has been linked with a number of jobs both in the Premier League and Serie A.
Many Chelsea fans would welcome his role as interim head coach made permanent but Abramovich is believed to be considering other options, including the former Barcelona boss Pep Guardiola.
Whatever the outcome of Saturday's clash, Di Matteo is unlikely to be short of offers over the summer but for now, the Italian's priorities are plain to see.
"I feel very responsible for the football club,'' he said. "I don't think about myself. What is at stake is we have a chance to bring the European title home for the first time in this club's history, and that's all that is important.
"This game can decide the history of our football club. You would join an elite of clubs who have won it before.
"We have to go into it with the knowledge we have the quality and experience to win it. I have a big drive and a big motivation to do something extraordinary for this club.
"This will be one shot and, with all the problems we have [with suspensions], it's causing me a headache."
One problem against the Germans could be a penalty shoot-out: "We've been practising penalties all the way, not just this week, for all the cup games we've played. We'll do some more this week. It's difficult to reproduce the same pressure from a penalty shoot-out in a game, but practice helps you gain confidence for when you are there.
"Bayern have a fantastic goalkeeper in Manuel Neuer. I watched him when he was at Schalke as well and he's a top goalkeeper. I didn't need the shoot-out [Bayern's win at Real Madrid] or watching him lately, to know his qualities."