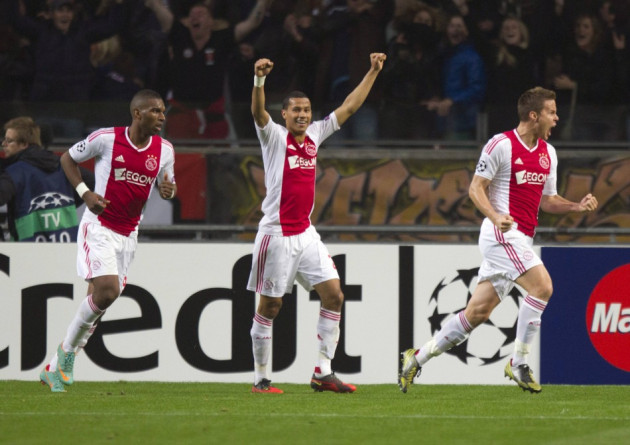 Group A : Diname Zagreb 0 - 2 Paris Ssaint-Germain - FC Porto 3 - 2 Dynamo Kiev
Group B : Arsenal 0 - 2 Schalke 04 - Montpellier 1 - 2 Olympiakos
Group C : Malaga 1 - 0 AC Milan - Zenit St Petersburg 1 - 0 Anderlecht
Group D : Borussia Dortmund 2 - 1 Real Madrid - Ajax 3 - 1 Manchester City

21.50: The Champions League is proving to be difficult for the English sides this season, with Manchester United the only side topping the table. City will really struggle to make it through and Roberto Mancini blames himself after the game saying that he did not prepare the team properly. With three games remaining it will be very interesting to see how many English sides can make it through to the knockout stages.
21.45: So it is a bad night for Manchester City and Arsenal. City now have a battle to qualify as they are six points behind Dortmund, five behind Marid and two behind Ajax. Arsenal are now second in the group after losing to Schalke who move to top of the table and it was a poor display from Wengers side.
21.36: The final whistle goes in north London and in Amsterdam and it is a poor night for the English sides in the Champions League. In fact it is only Manchester United that have managed to get a win as Chelsea lost 2-1 to Shakhtar last night. Can't remember the last time three Premier League sides have been defeated in Europe.
21.34: GOAL: Montpellier 1-2 Olympiakos (Mitroglou)
21.26: Surely there is no chance for a comeback as Farfan once again beats Santos and his cross finds Afellay at the back post and it is an easy finsih for thw winger. The Gunners have their AGM tomorrow which could now be very interesting.
21.26: GOAL Arsenal 0-2 Schalke (Afellay)
21.22: The Colombian grabs his second of the game as Porto once again take the lead. It's an easy finish into an empty net after a superb cross from Lucho Gonzalez.
21.22: GOAL: Porto 3-2 Dynamo Kiev (Martinez)
21.17: The Hunter breaks the deadlock and it is turning into a dreadful night for the English teams in the Champions League. The Dutchman is absolutely deadly and he cannot miss as a fall inbetween Santos and Mertesacker is fired past Mannone and it is no more than Schalke deserve.
21.17: GOAL: Arsenal 0-1 Schalke (Huntelaar)
21.15: GOAL Porto 2-2 Dynamo Kiev (Ideye)
21.15: GOAL Montpellier 1-1 Olympiakos (Torrossidis)
21.14: It is all happening in Amsterdam as Edin Dzeko has two chances to pull a goal back but he is denied on both occasions by the keeper. Ryan Babel then has a chance to make it 4-1 but his curled effort is easily saved by Hart.
21.09: Two quick goals in the same group as City fall further behind as exciting young midfielder Eriksen takes a shot which is deflected past Joe Hart who has no chance. Dortmund also take the lead in Germany as Mario Gotze's cross is not dealt with by Casillas and Schmelzer is on hand to hit a left-footed shot into the bottom corner.
21.09: GOAL: Dortmund 2-1 Read Madrid (Schmelzer)
21.08: GOAL: Ajax 3-1 Manchester City (Eriksen)
21.07: AC Milan's troubles continues as Joaquin scores a well deserved goal. He may have missed a penalty just before half time but he makes no mistake as he runs beyond the Italian's backline and slides the ball inside the near post.
21.07: GOAL: Malaga 1-0 AC MIlan (Joaquin)
21.05: The controversial back three is back for Manchester City as Lescott makes way for Kolorov. Clichy is now part of that three and he does not seem happy.
20.59: That is far too easy for Ajax as a corner finds Moisander in acres of space and he heads past a stranded Joe Hart. That was poor marking from City and they have a mountain to climb if they want to get out of this group.
20.59: GOAL: Ajax 2-1 Manchester City (Moisander)
20.57: Arsenal are struggling a touch tonight and Jefferson Farfan is getting a lot of joy against Andre Santos. The former PSV wide man cuts the ball across and Benedikt Howedes really should put Schalke in front. He doesn't as his shot flys miles over the bar.
20.51: The French champions take the lead and it is pretty direct stuff as Montpellier go long and the ball eventually breaks to Charbonnier who hammers the ball home with his left-foot and it is well deserved.
20.51: GOAL: Montepellier 1-0 Olympiakos (Charbonnier)
20.45: We are back underway at the Emirates and at the Amsterdam Arena. City will be devastated to concede such a late goal, even though it was a cracker, while Arsenal will need to step up in the second half.
HALF-TIME: Ajax 1-1 Manchester City and Arsenal 0-0 Schalke
20.30: Right on the stroke of half-time there is a equaliser for Ajax through Siem de Jong. It has been coming and it is a cracking goal as the captain first spreads the play wide to Ricardo van Rhijn who cuts back a low cross and the No.10 thumps a first time effort into the far corner.
20.30: GOAL: Ajax 1-1 Manchester City (De Jong)
20.29: That is some poor keeping as PSG counter at pace with Pastore finding Menez who hits it low and hard and it somehow goes straight through the keeper.
20.29: GOAL: Dinamo Zagreb 0-2 PSG (Menez)
20.28 At the Emirates there is a huge let off as Andre Santos, who has struggled this evening, is treading water and the ball across finds Huntelaar and he misses a sitter. You would have backed the Hunter to bury that.
20.27: Well that didn't last long and of course it is Ronaldo who scores. The conditions aren't good and players are slipping all over the place so Madrid go long through Ozil and Ronaldo is able to lift the ball over the keeper to find the equaliser. Route one but it is effective.
20.27: GOAL: Borussia Dortmund 1-1 Real Madrid (Ronaldo)
20.25: One of the most talked about players in the whole of Europe finished brilliantly after a loose ball from Pepe is and Sebastian Kehl slots a ball through to the Polish striker who hands the Germans the lead.
20.25: GOAL: Borussia Dortmund 1-0 Real Madrid (Lewandowski)
20.24: Jackson Martinez scores his seventh goal of the season to put Porto back in front. Its a lovely ball through the middle and the Colombian makes no mistakes and he lifts the ball home.
20.24: GOAL Porto 2-1 Dynamo Kiev (Martinez)
20.18: Did anyone doubt that Zlatan would be anything but a success at Paris Saint-Germain. The Swedish striker has been in sensational form this season and cooly slots home just after the half hour mark after being set up by Menez. Thats his 11th goal in nine games.
20:18: GOAL Dinamo Zagreb 0-1 PSG (Ibrahimovic)
20.09: Oleh Gusev levels matters in Portugal as he rises above the Porto defenders to glance a header home and get the Ukrainians back in the game.
20.08: Samir Nasri finds the opener with City's first real chance of the game. It is good work from England pair Michah Richards and James Milner with the latter squaring the fall for the Frechman who strokes the ball past the keeper into the far corner.
20.08: GOAL Ajax 0-1 Manchester City (Nasri)
20.08 GOAL Porto 1-1 Dynamo Kiev (Gusev)
20.03: We have out first goal of the night and it is a cracking finish from Varela. The ball is squared by Lucho Gonzalez and Silvestre Varela powers the ball into the top corner from just inside the penalty area. Stunner.
20.03: GOAL: Porto 1-0 Dynamo Kiev (Varela)
20.02: I wonder if it will be a former Liverpool man that causes problems for Manchester City tonight. There are two on the pitch but don't think it will be Christian Poulsen, but Ryan Babel could cause problems. Especially if he can isolate Jolean Lescott which he ha managed to do once already.
20.00: Big shout for a penalty at the Emirates as Ibrahim Afellay goes round Mannone and he is brought down by the keeper. However, the ref decides it is simulation and books the on-loan Barcelona winger for simulation.
19.57: While we await the first goal there is some big news for all Liverpool fans concerning Daniel Agger. Thats right, the defender has joined Twitter. You can follow him by clicking this link https://twitter.com/DanielAgger
19.52: No goals to report yet but Ajax have started brightly against Manchester City with Siem De Jong having an early pot shot from 20 yards which doesn't threaten Joe Harts goal. A little closer to home and Arsenal are relying on Carl Jenkinson to supply the width on the right, the youngster has to be one of the most improved players this season and will be pushing for an England call-up.
19.47: Arsenal may have a perfect record in the Champions League this season but they come into this game on the back of a surprise loss to Norwich. Schalke meanwhile defeated Borussia Dortmund 2-1, an impressive result when you consider how well they played against Man City.
19.45: We are almost ready for kick-off as the Champions League anthem rings out around the various grounds across Europe. Can Manchester City pick up their first win? Will Arsenal maintain their 100% record? These questions will all be answered over the next 90 minutes.
19.37: Away from the British clubs there is an intriguing game in Spain where high flying Malaga take on a struggling AC Milan. The italian side have had a dreadful start to the season and are only just above the relegation zone after another defeat at the weekend. Malaga had all sorts of financial problems in the summer but have responded in style and have won both of their Champions League games without conceding a goal.
19.29: One player to watch out for in the Schalke side tonight is Lewis Holtby - the German international with a British name. The midfielder could have played for England as his father is from Merseyside and is a keen Everton fan. Holtby admitted in an interview earlier this week that he dreamed of playing in the Premier League, with less than 12 months on his contract, that dream could become a reality.
19.26: Team News:
Arsenal: Mannone, Jenkinson, Mertesacker, Vermaelen, Andre Santos, Ramsey, Coquelin, Arteta, Podolski, Cazorla, Gervinho. Subs: Shea, Koscielny, Giroud, Djourou, Arshavin, Chamakh, Gnabry.
Schalke 04: Unnerstall, Uchida, Howedes, Matip, Fuchs, Hoger, Neustadter, Holtby, Afellay, Farfan, Huntelaar. Subs: Hildebrand, Marica, Jones, Barnetta, Moritz, Draxler, Kolasinac.
Referee: Jonas Eriksson (Sweden)
Ajax: Vermeer, Van Rhijn, Alderweireld, Moisander, Blind, Schone, Poulsen, Eriksen, Sana, De Jong, Babel. Subs: Cillessen, Enoh, Sulejmani, Boerrigter, Veltman, Dijks, Fischer.
Man City: Hart, Richards, Kompany, Lescott, Clichy, Toure, Barry, Milner, Aguero, Nasri, Dzeko. Subs: Pantilimon, Sinclair, Kolarov, Tevez, Nastasic, Balotelli, Evans.
Referee: Svein Oddvar Moen (Norway)
19.25: Welcome to another exciting night of Champions League football as Manchester face another difficult task against the Dutch champions Ajax. Joe Hart has been outstanding in the first two matches and he could well be called in to action on numerous occasions tonight.
Arsenal have made the surprise decision to leave out Olivier Giroud and it will be Gervinho leading the line against a Schalke side who have a prolific striker in their ranks in Klaas Jan Huntelaar. The Dutch forward scored 48 goals in 47 games last season and will be a real threat to Arsene Wenger's side.