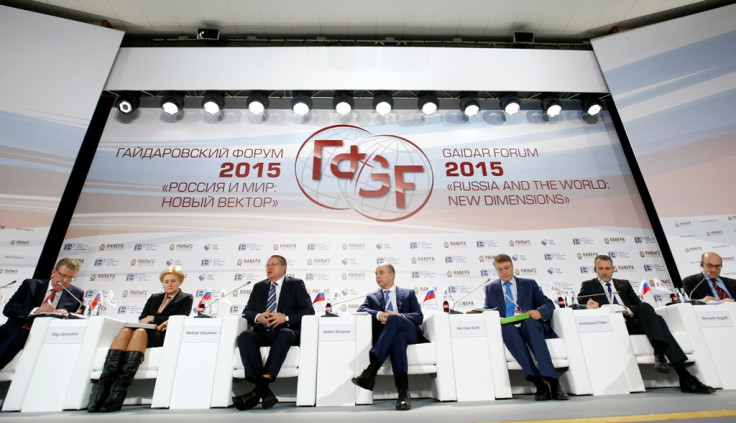 Russian Economy Minister Alexei Ulyukayev has said that it is highly likely that ratings agency S&P will downgrade Russia's sovereign rating.
Ulyukayev, speaking on the sidelines of the annual Gaidar Forum in Moscow on 14 January, said the likelihood of Russia's rating being downgraded to "junk" was "pretty high", Interfax reported.
The oil exporter's Finance Minister Anton Siluanov added to the gloom on Wednesday, stating that low oil prices – which are down over 60% since June 2014 -- have created a $180bn (£119bn, €153bn) shortfall in revenues to date, and that sanctions imposed on Russia, following its incursions into Ukraine, have created a $60bn shortfall.
Siluanove added that Russia's revenues will fall by 3tn roubles ($45.1bn) this year if the oil price averages around $50 a barrel, Reuters reported.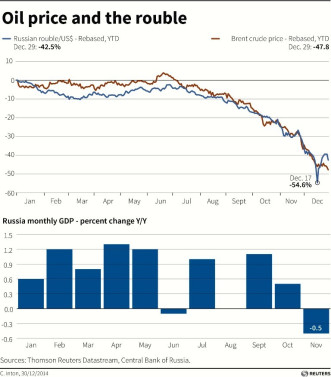 Oil prices are below that level at present, hovering around $45 a barrel in the wake of a supply glut and weak global demand.
Ulyukayev said: "We have no reasons to doubt the credit rating of Russia. The state debt stands at 11% of GDP, a negligible value, so there is a 100-percent guarantee that we will fulfil our commitments."
Siluanove said: "We hope that oil price is close to finding its bottom now."
But not everybody thinks the oil rout is a "disaster" for Russia.
Low crude prices create possibilities for restructuring the domestic economy, according to the Rector of the National Economy Academy, Vladimir Mau, Tass reported.
Mau said on 13 January: "I would not say that an oil price fall is unambiguously a boon but you can't also say that it's a disaster.
"I'm not saying that all this is good but you can't fail to see that this also opens quite big opportunities for economic policy and helps resolve some issues that could not be resolved - we could not implement disinflation policy at high oil prices."
S&P last month said it expected to complete a review of Russia, which it already rates at just one notch above junk with a negative outlook, by mid-January 2015.