Karl Lagerfeld gathered 800 of his closest fashion friends to Rome on 1 December for Paris in Rome 2015-16, the 12th Chanel Metiers d'Arts show, and to premiere his latest short film, Once And Forever, starring Kristen Stewart.
While every other designer chooses to present their pre-fall collections in a low key, buyer-oriented affair, Lagerfeld created the Metiers d'Arts to celebrate the plethora of artisans that work to create each collection. With previous shows set in Salzburg, Dallas and Scotland, they are always a visual feast for those attending or watching online.
Lagerfeld later put together a Paris of yesteryear, an idea of the French capital and its livelier quarters, in the Teatro N°5 – Federico Fellini's favourite studio. In this black and white décor reminiscent of those by Alexandre Trauner, the famous production designer favoured by Marcel Carné, and to the piano sounds of artist Christophe Chassol, the models with their smoky gazes came out, one by one, from the Rome station of Paris' metro line 5, wearing two-tone mules or pearled sandals.
The location
The event was staged within the infamous walls of the Cinecittà Studios built by Mussolini and steeped in the history of its previous productions including La Dolce Vita and Cleopatra.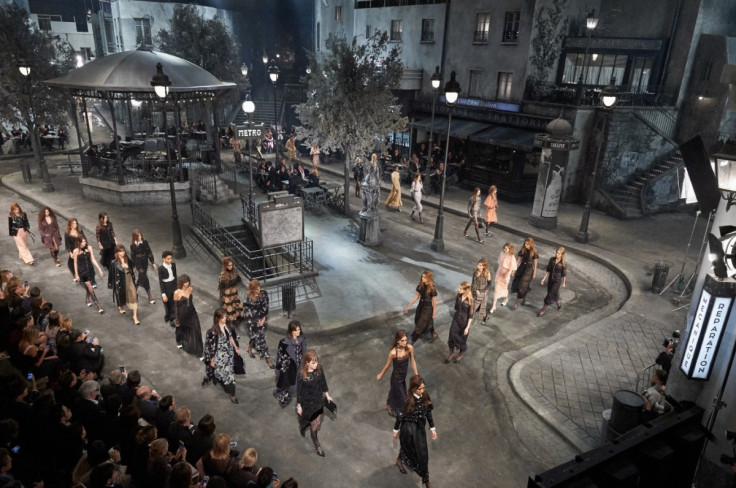 The guests
Among the 800 guests were the brand's ambassadresses Stewart, Anna Mouglalis and Zhou Xun, who were joined by Rooney Mara and Geraldine Chaplin. The catwalk was no less exciting, with Freja Beha Erichsen, Lindsey Wixson, Sam Rollinson and Lara Stone among the 62 models walking during the show. But the star guest was Lagerfeld's nephew, Hudson Kroenig, who took to the catwalk in a matching Harris-eqsue tweed peacoat and flat cap.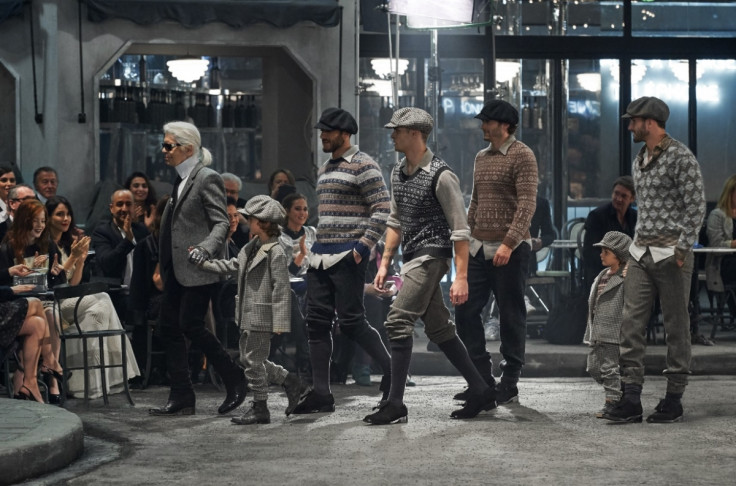 The set
Before entering the main event, guests sipped cocktails on the film sets of Roma Antica before being ushered into an the Piscina, an open air cinema, to view Once And Forever, with Stewart starring as a rather waspish actress playing a young Coco Chanel.
For the main event, Lagerfeld and his team transformed the setting of Teatro N°5 into his own 1960's Parisian dream world, that mingled the romance of Italian cinema with moody 1960's Paris. The black and white set was complete with everything from intricate pavement sculptures to Rome station of Paris' metro line 5 from which the girls entered the set.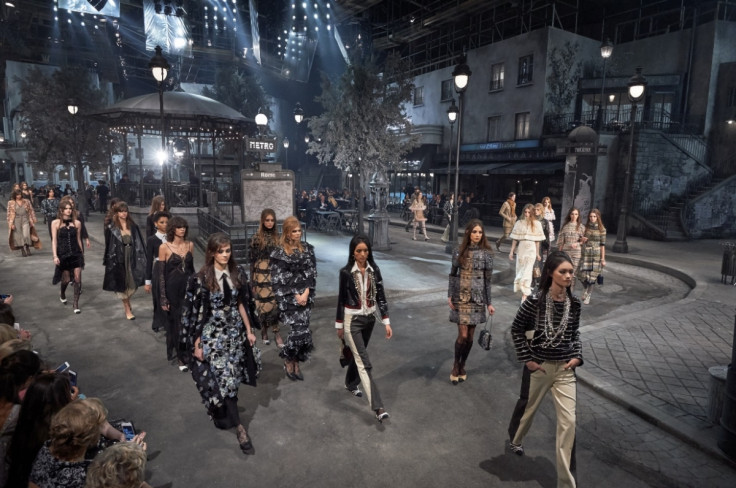 Envoking the feeling of an hour too early or late for passers-by to be around, the models stepped into the twilight-lit scene as onlookers sat huddled around café tables and corner bars like unapologetic voyeurs in a perfect realisation of film noir. Lavish, theatrical and exceptionally detailed, it had Lagerfeld stamped all over it.
The clothes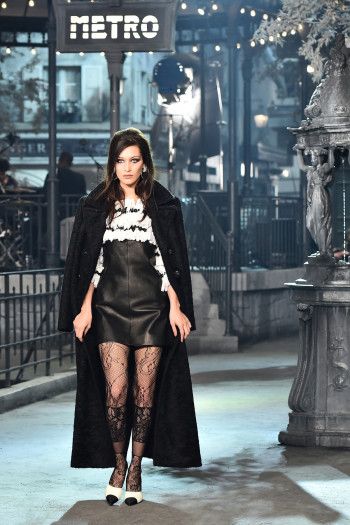 Continuing the reference to the 1960s that has been prevalent for the last couple of seasons, the collection was a beautiful, rebellious and insouciant re-imagining of the Chanel girl. Thick wool felt peacoats were "thrown" over delicate silk mini dresses adorned with Italian-inspired farfalle bow embellishments, while others sported natty intarsia wool knit dresses with sweaters loosely tied around their waists.
The exquisite details were there but they were worn without care; these girls were not going out but heading home or onwards into the night, walking through the streets in their two-tone mules and laced tights.
The palette remained overtly Chanel with soft beiges, creams and blush tones layered upon ochres, and cappuccino hues. However, rather than the rather innocent appearance of a girl in delicate tweeds, the addition of leather maxis and high shine patent pieces gave the collection a slightly smutty but glamorous edge and the iconic suit was presented in a new trompe l'oeil design that was really a dress in disguise. The evening wear was sleek, laced and slipped over the skin like a negligee.
Men were also dotted throughout sporting fantastic interlocking C knits as well as romantic 1960s ruffle necked blouses, beads and drainpipe trousers.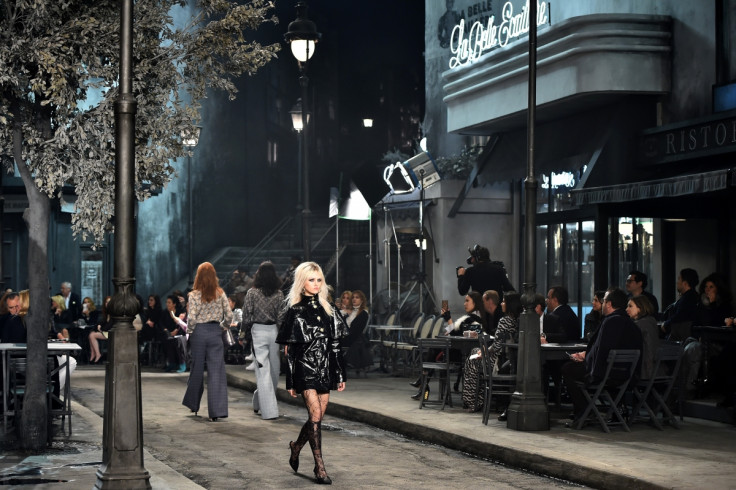 The look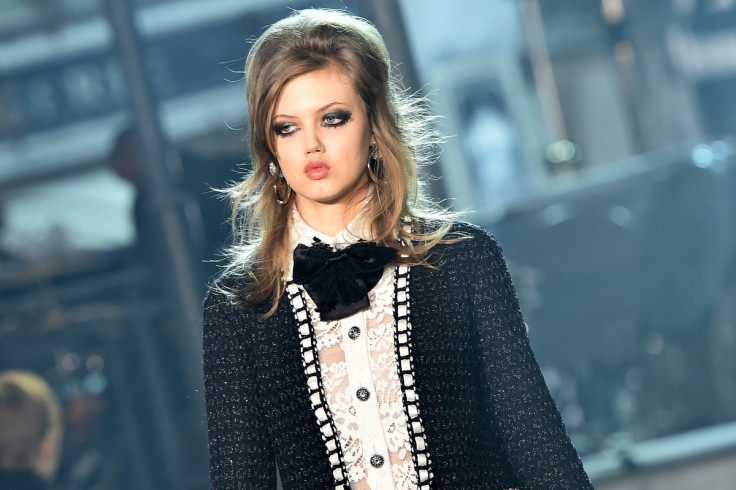 Sooty black kohl was smudged over smoky shadowed eyes with a neatly and faintly pencilled brow and a warm peach melba-hued lip. Sam McKnight's hair designs were a well-received throwback to bygone Italian glamour mixed with Parisian nonchalance. Loosely worn beehives were worn with choppy fringes or among loose tousled waves. Effortless but flawless and definitely one to copy now.