Craig Stephen Hicks, the 46-year-old man who turned himself in after allegedly gunning down three American Muslim students at Chapel Hill, near the University of North Carolina, has been charged with three counts of first-degree murder, according to local reports.
A Facebook page with his name from Durham and carrying atheist slogans has triggered speculation that the attack is religion-motivated.
The suspected shooter recently posted a Facebook photo of "my loaded 38 revolver":
He also described religion as a "pyramid scam" in other posts. The cover picture for the Facebook profile, which could not be independently verified by IBTimes UK, also reads: "Anti-theism/Of course I want religion to go away".
An Amazon wishlist for Craig Hicks, found by freelance writer Omar Ghabra, listed weaponry and accessories: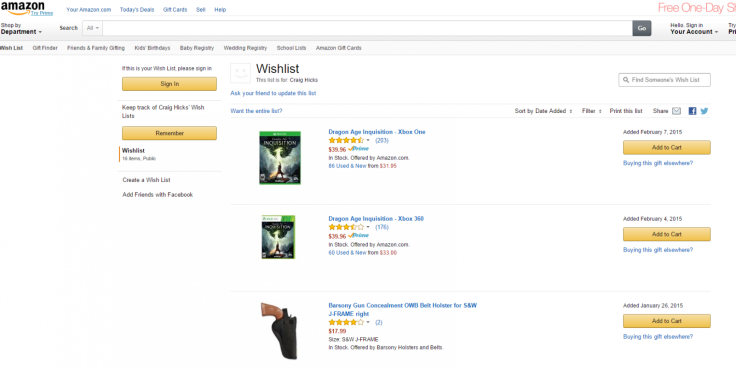 In another post, he compared radical Christians and radical Muslims. "Do you see any difference in both sides?"
Speculations on the religious nature of the killing prompted atheists' figurehead Richard Dawkins to condemn the massacre:
Deah Shaddy Barakat, 23 his wife Yusor Mohammad Abu-Salha, 21 and her sister Razan Mohammad Abu-Salha, 19, were shot dead at a condominium complex off University of North Carolina campus.
Motive for the shooting are yet to be confirmed by authorities.