President Barack Obama has condemned the shooting at a black church in South Carolina as another example where "someone who wanted to inflict harm had no trouble getting their hands on a gun".
Obama called for a shift in how the US deals with gun violence and gun laws after nine people were killed when a gunman opened fire at the Charleston Emanuel African Methodist Episcopal church.
The suspect, 21-year-old Dylann Roof, has been taken into custody following a 14-hour manhunt. He was detained during a traffic stop in Shelby, North Carolina – around 250 miles away from the scene of the shooting.
Following the incident, Obama gave a strongly worded statement in which he expressed his "deep sorrow" over the "senseless murders" before adding: "I've had to make statements like these too many times. Communities like this have had to endure tragedies like this too many times.
"Now's the time for mourning but, let's be clear, at some point we as a country will have to reconcile the fact that these types of mass violence these types of shootings don't happen in other advanced countries, with this type of frequency."
He added: "Innocent people were killed because someone who wanted to inflict harm had no trouble getting their hands on a gun.
"It is in our power to do something about it. I say that recognising the politics in this town foreclose a lot of those avenues right now but it'd be wrong for us not to acknowledge.
"At some point, it's going to be important for the people of America to come to grips with it and for us to be able to shift how we think about the issue of gun violence collectively."
Roof was reported to have been given a gun for his 21<sup>st birthday in April.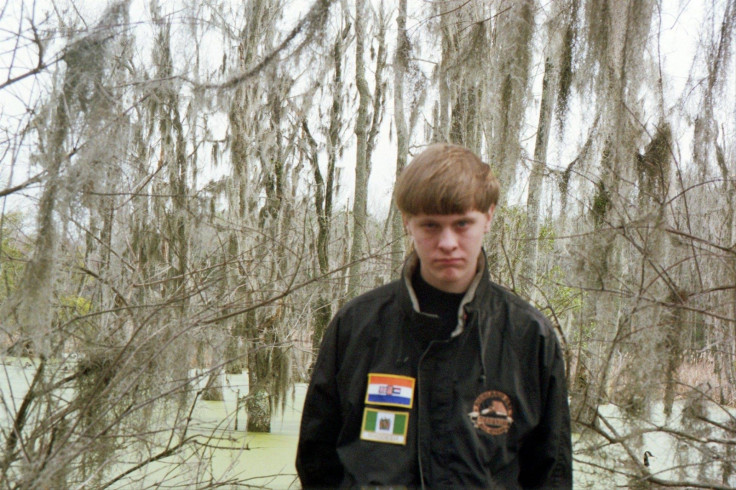 The president paid tribute to those killed during the incident, which police are treating as a hate crime. He said he and the first lady, Michelle Obama, knew several people in the church community in Charleston, including pastor and senator Clementa Pinckney.
"To say our thoughts and prayers and with them and their families and their community doesn't say enough to convey the heartache and the sadness and the anger that we feel," he added.
After the suspect in the shooting was identified by FBI a Facebook photo emerged showing Roof wearing a jacket with Rhodesia (now Zimbabwe) and the South African apartheid flags pinned on to it.
It was also revealed that the 21-year-old had previously been charged for drug offences and trespassing earlier in 2015.
Roof was reported to have sat at the service in the church for an hour before he opened fire. Before shooting, he was alleged to have said: "I have to do it. You rape our women. You're taking over our country. And you have to go."