Dylann Roof: Charleston shooting suspect wore Rhodesia and apartheid-era South Africa flags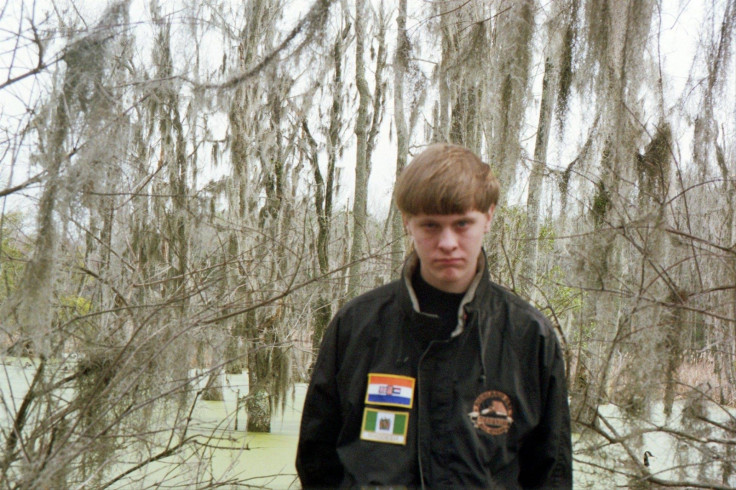 The FBI has identified the suspect in the deadly shooting at a historic black church in Charleston, South Carolina, as 21-year-old Dylann Roof from Columbia, according to reports.
Roof was allegedly recognised by his uncle Charles Cowles in the surveillance camera photo released by police. He described the man as "quiet, soft-spoken" and said he received a .45 gun for his birthday.
A Facebook search showed a picture of Roof with the Rhodesia (now Zimbabwe) and the South African apartheid flags pinned on his jacket. The gunman was charged with trespassing and drugs offence in March and April this year according to Reuters.
A spokeswoman for White Knoll High School, which serves community of Columbia and Lexington in South Carolina told IBTimes UK: "He not been a student of ours – he only went to the ninth grade. That is the last year that we have for him. We have that he transferred to another school district."
Around 40 of his 87 Facebook friends are black.
White Knoll High School is a public high school in Lexington, South Carolina that provides education for ninth through twelfth grades, serving communities of West Columbia and Lexington, South Carolina. The school's mascot is the Timberwolf and their main rival is Lexington High School.
The suspect, described as "slender and clean-shaven", entered the church while a Bible study meeting was taking place. He sat down and, at around 9pm, started shooting.
According to reports, he reloaded five times before shooting and killing eight people inside the church. The ninth victim died later.
Before shooting, he allegedly said: "I have to do it. You rape our women. You're taking over our country. And you have to go".
Family members told ABC News that a five-year-old child was in the church at the time of the shooting and survived by playing dead.
The gunman was said to be blond, wearing a grey sweatshirt, blue jeans and Timberland boots. Helicopters are still hovering above Charleston and officers with dogs are patrolling the streets surrounding the church as the search for the shooting suspect continues.
Anyone with information on the suspect should call 1-800-CALLFBI (1-800-225-5324).
© Copyright IBTimes 2023. All rights reserved.