The latest edition of Charlie Hebdo hit the shelves on Wednesday 6 January, with readers saying they continued to buy it as an act of defiance on the one year anniversary of the deadly terrorist shooting at the satirical magazine in which 12 people were killed.
Though the crowds who queued at newstands to buy the "survivors' edition" in the immediate aftermath of the attacks had gone, a steady stream of people continued to flow through newsagents that had increased their orders in anticipation of the renewed interest.
The later attacks on 13 November in Paris, in which 130 people lost their lives, was still in the minds of many as they purchased the edition, which features God running with blood on his cloak and beard and the headline: "The murderer is still on the run."
Resident of Joinville-le-Pont in the eastern suburbs of Paris, Jean-Jacques Galliou, says he still feels angry about the attacks and the criticism of the weekly's cartoonists by those who said they had brought it on themselves.
"What was, unfortunately, good after 13 November was that it proved that what Charlie [Hebdo] had done was right and that, in the end, what they published wasn't a problem," he said after buying the latest issue.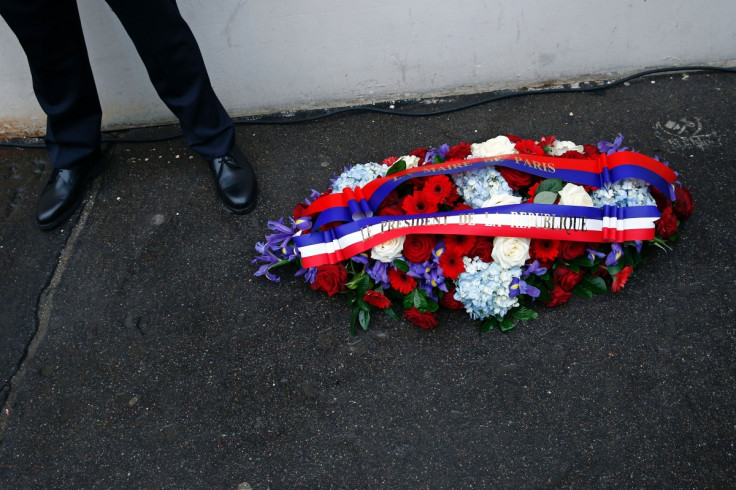 In Paris, which is still on its highest level of terror alert, many commuters stopped at newsagents on their way to work to buy a copy of the magazine.
"You have to protect certain values and I am 100% behind the ideas of Charlie Hebdo, and with these people," Italian resident in Paris for 40 years Nicola Mesiano said.
Sandrine, another Parisian at the newstands, said she has always read the magazine, but started to buy it more in the aftermath of the shootings in January, and was spurred on by those in November.
"It reinforced a number of things I was feeling and there's that desire to carry on with some kind of resistance to what's going on around us," she said.
Commemorations continue in Paris to mark the one year anniversary. President Hollande will inaugurate an oak tree, said to live for 200 years, on Place de la République on Sunday 10 January.