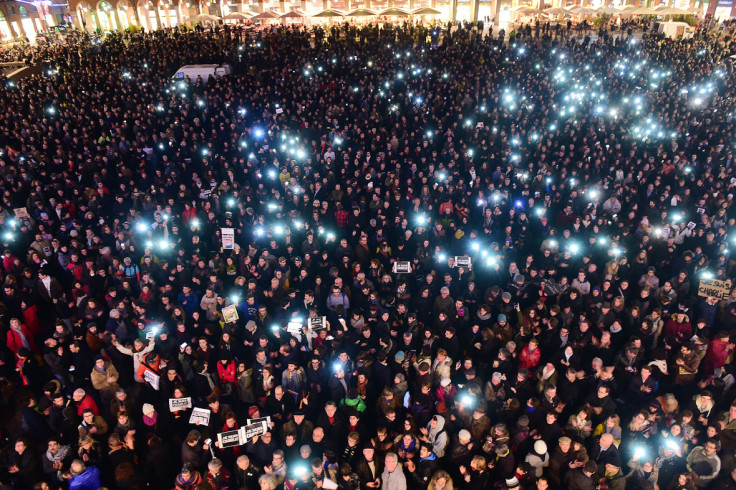 Thousands of people have marched across cities in France today, in remembrance of the 17 people killed in the Paris attacks.
According to police figures, an estimated 30,000 people attended a silent march in the southern French city of Pau, whilst 22,000 people gathered to pay their respects in Orleans, south-west of Paris.
Tomorrow's "unity rally" is expected to draw more than the 210,000 people who attended today's marches.
According to Sky News, 1 million people are expected to attend tomorrow's rally, which is scheduled to start at 3pm at the Place de la République in central Paris.
UK Prime Minister David Cameron, German Chancellor Angela Merkel, Turkish Prime Minister Ahmet Davutoğlu, Spanish Prime Minister Mariano Rajoy, and Russian Foreign Minister Manuel Valls are all expected attend.
David Cameron confirmed his attendance through a short message on Twitter.
Prime Minister Manuel Valls said: "Sunday, the French people will cry out their love of liberty."
Speaking ahead of attending the rally, Valls said: "The rally will be unbelievable, it will remain in the annals of history… It will show the dignity of the French people."
Following a security cabinet meeting, Interior Minister Bernard Cazeneuve said that France would remain on its highest state of alert "for the next few weeks".
In a statement, Cazeneuve admitted: "We are exposed to risk, therefore it's important tht the threat alert which was enhanced across the country stays in place for the next few weeks."
Ahead of tomorrow's unity rally, Cazeneuve commented: "French people must know all measures have been taken to ensure this demonstration can take place in harmony, respect and of course safety. For those who want to attend it, they can attend in all safety."
Cazeneuve confirmed that snipers would be stationed on roofs, and parking for all vehicles on the march's two routes will be closed from noon.