French satirical magazine Charlie Hebdo has received fresh death threats over its latest cartoon.
The most recent edition features a depiction of Islamic scholar Tariq Ramadan, who several women have accused of rape, with a huge erection. A speech bubble reads: "I am the sixth pillar of Islam." The words "Rape: the defence of Tariq Ramadan" are splashed across the cover.
The Oxford University professor has been accused of rape by two women in France. A third claims that Ramadan sent her "pornographic messages" and later tried to blackmail and manipulate her.
He has denied all the allegations, describing them as a "campaign of lies launched by my adversaries". He has promised to sue for libel.
Charlie Hebdo's editor, Laurent Sourisseau, said that the magazine is pressing charges after receiving new death threats over the Ramadan cover.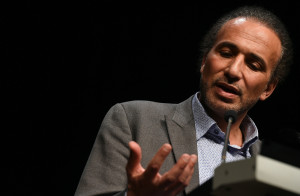 Sourisseau said that the death threats "had never really stopped" since terrorists stormed Charlie Hebdo's offices in January 2015, killing 12 people and injuring 11 others.
Two gunmen claiming allegiance to Al-Qaeda opened fire inside Charlie Hebdo's offices in retaliation for the magazine's satirical depictions of the Prophet Mohammed.
"Sometimes there are peaks when we receive explicit death threats on social media – this has been the case once again," Sourisseau told Europe 1 radio.
"It's always difficult to know if these are serious threats or not, but as a principle, we take them seriously and press charges," he added.
After terrorists carried out twin attacks in Barcelona and nearby Cambrils, killing 14 people and injuring more than 100 others, Charlie Hebdo published a provocative cartoon criticising Islam. The cover depicted dead bodies lying in the wake of a speeding truck, with the caption: "Islam, eternal religion of peace".
Sourisseau defended the cover in his editorial, arguing that the French government was afraid to confront the reality of Islamic terrorism out of fear of upsetting law-abiding Muslims in France.