Charlie Hebdo, the French magazine attacked by jihadi gunmen in 2015, has published a provocative cartoon criticising Islam in the wake of the Catalonia terror attacks that left 14 dead.
The latest edition of the satirical weekly, released on Wednesday 23 August, depicts dead bodies lying in the wake of a speeding truck, with the caption: "Islam, eternal religion of peace".
On 17 August a suspected Islamist terror cell committed twin attacks in Barcelona and nearby Cambrils, driving vehicles through busy pedestrian areas, killing 14 people and injuring more than 100 others.
The men believed to be responsible are of Moroccan origin and are thought to have been radicalised by an Imam with links to the perpetrators of the 2004 Madrid bombings, which killed 192 people.
Isis has claimed responsibility for the attack, as they did in the aftermath of similar truck attacks in Nice and Berlin in 2016.
However, Charlie's latest front cover has attracted criticism form politicians. Ex-minister and Socialist MP Stephane Le Foll described the image as "extremely dangerous".
"When you're a journalist you need to exercise restraint because making these associations can be used by other people," he said, according to Euro news site The Local.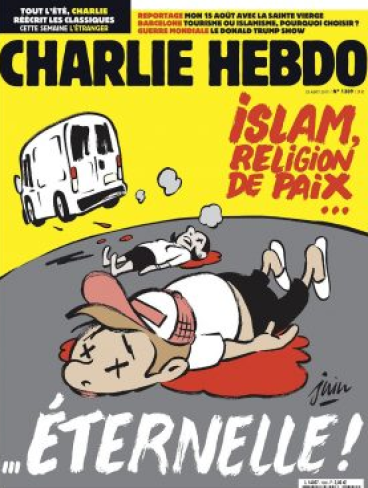 Editor Laurent "Riss" Sourisseau defended the cover in his editorial, arguing that French society is refusing to confront the realities of Islamist terrorism out of fear of upsetting law-abiding Muslim moderates.
He wrote: "The debates and questions about the role of religion, and in particular the role of Islam, in these attacks have completely disappeared."
Twelve people, most of them Charlie Hebdo staff, were shot dead at the magazine's offices in January 2015 by French brothers of Algerian origin, who are presumed to have been riled by the publication's long history of printing controversial depictions of the Prophet Mohammed.
The attack stunned the world and led to the rallying cry "Je Suis Charlie" as French citizens and foreigners sought to show solidarity around the principle of free speech, which had been so directly assaulted.
It was the first of three major terrorist attacks in France in 2015, which killed more than 200 people combined.