France: Charlie Hebdo Website Hacked over Prophet Mohammed Cartoons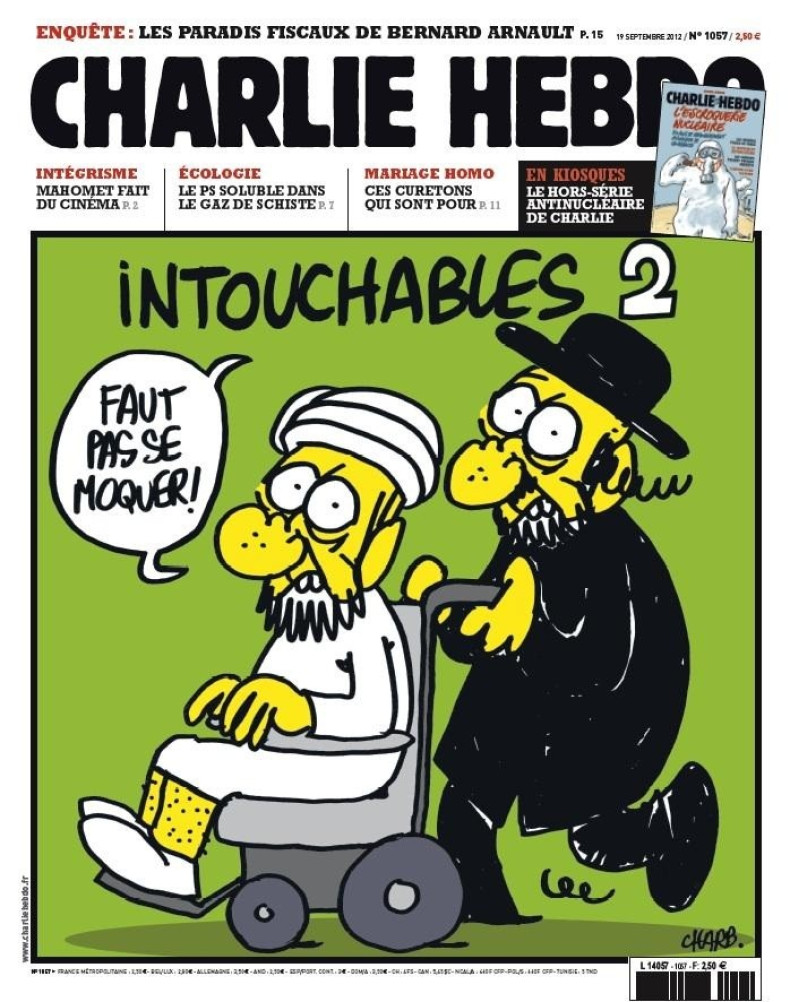 The website of French satirical magazine Charlie Hebdo is under attack by hackers, after the paper published cartoons caricaturing the Prophet Mohammed.
A spokesperson form the magazine said hackers have been blocking access to the site since 5am and the attack is still ongoing.
A spokesperson for Charlie Hebdo told IBTimes UK that the magazine's staff have received several messages condemning the editorial decision to print cartoons featuring Mohammed. However no-one has claimed responsibility for the cyber-attack yet.
Anti-riot police has been sent to patrol the Paris offices of the magazine.
Provocative
The weekly edition of the satirical magazine features a cartoon of an imam on a wheelchair pushed by a rabbi, accompanied by the words "Untouchables 2: do not laugh!" as well as two cartoons depicting the Prophet naked in provocative positions.
The publication comes following a wave of violent protests in Muslim countries, triggered by the anti-Islamic movie Innocence of Muslims.
According to the Muslim faith, it offensive to depict Muhammad in any manner. However Charlie Hebdo's editor Stephane Charbonnier said the cartoons would "shock those who will want to be shocked," and claimed the right to freedom of expression.
"The freedom of the press, is that a provocation? I'm not asking strict Muslims to read Charlie Hebdo, just like I wouldn't go to a mosque to listen to speeches that go against everything I believe.
"If we start to question whether we have the right to draw Muhammad or not, if that is a dangerous thing to do or not, the next question is going to be: can we depict Muslims in the newspaper? And then: can we represent human beings in the newspaper?"
Reaction
Dalil Boubakeur, the senior cleric at Paris's biggest mosque, condemned the publication but called for the French Muslim community to keep calm and ignore the publication.
"It is with astonishment, sadness and concern that I have learned that this publication is risking increasing the current outrage across the Muslim world. I would appeal to them not to pour oil on the fire," he said.
France's Muslim Council also appealed for calm: "We urge French Muslims not to yield to the taunt."
French Foreign minister Laurent Fabius said he disapproved Charlie Hebdo's editorial decision.
"I am against all kind of provocations, especially in a sensitive time like the present," he said.
Last year Charlie Hebdo's headquarters in Rue Serpollet was fire-bombed after the magazine's decision to rename a special edition, featuring a cartoon of Mohammed, Charia Hebdo and list the Prophet as the editor-in-chief.
The magazine's website was also hacked in last year's attack.
Charlie Hebdo's Mohammed Cartoons: France Closes Embassies in 20 Muslim Countries