Hollywood actor Charlie Sheen has received an abundance of support after announcing he has been diagnosed as HIV positive. The former Two And A Half Men actor revealed the news during an interview with Matt Lauer on the Today show on Tuesday morning (17 November).
"I am here to admit that I am in fact HIV positive and I have to put a stop to this onslaught, this barrage of attacks, of sub-truths – very harmful ... stories that are threatening the health of so many others," he said at the start of the candid sit-down.
He later added that the diagnosis which he received "roughly four years ago" was "a hard three letters to absorb".
Thousands have taken to Twitter to express their support for Sheen following the announcement, with reactions including:
The Today show had promoted Sheen's appearance beforehand by tweeting that the Anger Management star would be making a "personal announcement", prompting many to associate the actor with the Hollywood HIV story revealed on 11 November. The Sun newspaper published a splash claiming that an unidentified famous US actor had caused "panic" in Hollywood as he would not publicly disclose his illness.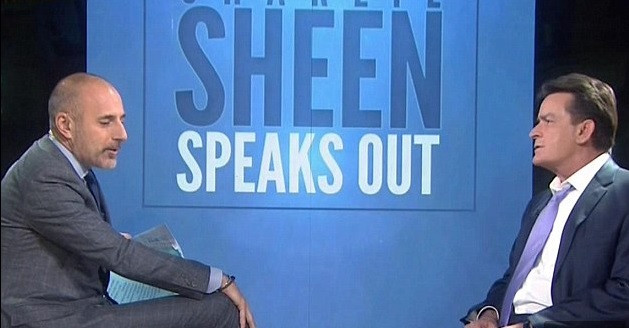 The tabloid drew attention to the actor's dating history and claimed his previous love interests included a glamour model, a TV star, a religious movie star and a top Hollywood personality with a "controversial past". However, the British newspaper received backlash from HIV campaigners and Twitter users who said the actor should have had his privacy respected. Earlier in November 2015, US celebrity website RadarOnline also published a similar story about an HIV positive actor without revealing his name, describing it as a "bombshell world exclusive".
Watch Charlie Sheen's interview with Matt Lauer on the Today show: