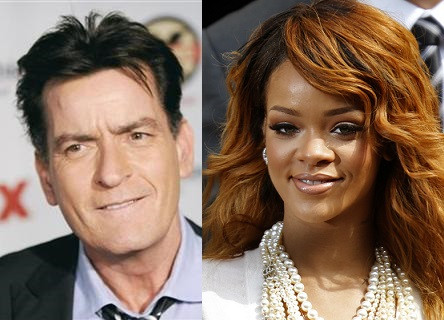 Rihanna has branded Hollywood bad boy Charlie Sheen an 'Old Queen' after he lashed out at her in an epic twitter rant.
The Diamonds singer mocked the former Two and a Half Men star hours after he launched a scathing attack on her for allegedly declining a meet-and-greet with him and his fiancé Brett Rossi at the Giorgio Baldi restaurant in Santa Monica.
Sheen claims that when they found out that Rihanna was eating nearby, he requested to meet the popstar, but her people said it wouldn't be possible.
"Well, the word we received back was that there were too many paps outside and it just wasn't possible at this time." he tweeted.
He later added: "Nice impression you left behind, Bday or not. Sorry we're not KOOL enough to warrant a blessing from the Princess. [or in this case the Village idiot]"
Sheen then taunted Rihanna's new bubblegum pink hair.
"Oh and Rihanna, Halloween isn't for a while. But good on you for testing out your costume in public. It's close; a more muted pink might be the answer, as in: none,'"
As Sheen's insults continued to flow online, many of Rihanna's loyal fans soon came to her defence with one saying: "You're the joke of Hollywood. I know Rih is glad she didn't meet this A*****l!"
After keeping a dignified silence, Chris Brown's former girlfriend hit back at the 48-year-old Anger Management actor by changing her main Twitter image to a photo of Sheen appearing to ask for her autograph. She also fired off some tweets of her own.
"Goooorrrrrrlllllll......If that old queen don't get his diapers out of a bunch," one tweet read.
She also informed a fan that she was not aware that Sheen had requested a meeting.
"To think that I went there to have dinner in peace like I ALWAYS DO! Not once did anyone ask to meet me or take pix. I didn't even know this old man was in there!"
Rihanna is the latest star to get on the wrong side of Sheen. He previously used social media to blast his ex-wife Denise Richards and Ashton Kutcher, who replaced him on Two and a Half Men.
What do you think? Are you Team Rihanna or Team Charlie? Let us know..