Charlotte police release full video of fatal Keith Lamont Scott shooting
The harrowing video of the fatal shooting of Mr Scott fails to shed light on whether he had a gun.
Police in the North Carolina city of Charlotte have released the unedited footage of an incident of a black man being shot dead which sparked riots.
Keith Lamont Scott was shot by an officer outside his home on 20 September. Police claim Scott had a gun and while the video does not clarify this, his family maintains he was unarmed.
In the 16-minute video recorded on an officer's body camera, Scott is seen standing by the door of his SUV as the officer points a weapon and shoots.
Scott is then seen lying on his front in the car park, groaning in agony, as police first handcuff him then attempt to treat him. His T-shirt is cut away and bullet wounds are visible. At one point an officer says "stay with us" and another says to a colleague "stay right here with the gun". However apart from the police guns, no weapon is visible in the footage.
Scott's family say he was suffering from a traumatic brain injury (TBI) as a result of a motorcycle crash in November 2015 which made him slow to respond.
In a separate video shot on the cellphone of Scott's wife Rakeyia is heard shouting that her husband "doesn't have a gun, he has a TBI."
Police say he was holding a gun and failed to put it down. A photograph of a weapon was later released reportedly with Scott's DNA on it.
After the unedited footage was released an attorney for the Scott family, Justin Bamberg, said: "What you see on the footage is a perfect example of why law enforcement has to be sure before they pull the trigger and why the use of deadly force has to always be a last resort and not a first resort. You see a human being, father, a husband lose his life and that is extremely hard to watch, but that is the reality of these situations." (CNN).
During protests against alleged police brutality on 21 September another man, Justin Carr, was shot dead. Another man, Rayquan Borum, is charged with his murder and has reportedly admitted it (Charlotte Observer). However Charlotte protesters claim Borum was framed by police and on Tuesday (4 October) arranged another march through the city to protest at both deaths.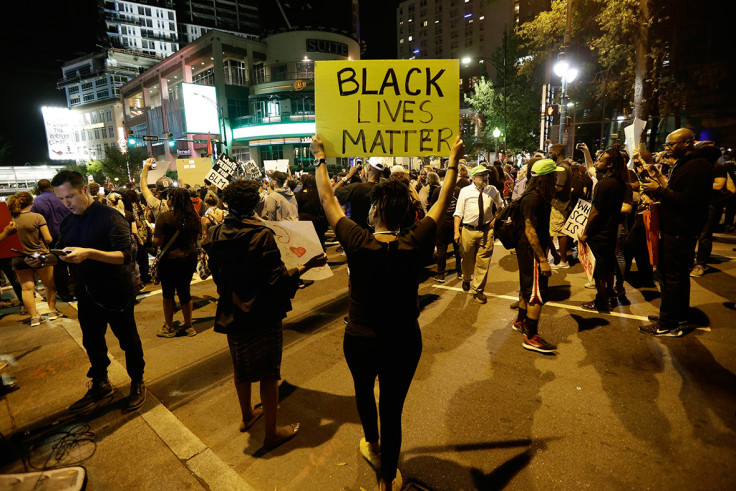 © Copyright IBTimes 2023. All rights reserved.