Violent protests in North Carolina following the fatal shooting of Keith Lamont Scott have led to an entire city being declared in a state of emergency as authorities attempt to restore calm. The emergency measures in Charlotte apply to the whole of the city and exist to allow the state to send the National Guard to Charlotte to provide support to the State Highway Patrol and local law enforcement as needed, officials said.
"Upon a recent request of Chief [Kerr] Putney, the National Guard and State Highway Patrol are sending in resources to further help the Charlotte-Mecklenburg Police Department," said North Carolina governor Pat McCrory.
"Any violence directed toward our citizens or police officers or destruction of property should not be tolerated. I support and commend the law enforcement officials for their bravery and courage during this difficult situation."
The measures were called following the second night of protests sparked by the police shooting of the 43-year-old father of seven, in which the victim's family and police shared differing accounts of what happened.
According to law enforcement, while they were searching for a suspect outside an apartment complex in the city, Scott emerged from his parked car with a gun and threatened them. Scott was not the suspect they were seeking.
However, a woman claiming she is Scott's daughter has shared a video on social media in which she says: "The police just shot my daddy four times for being black."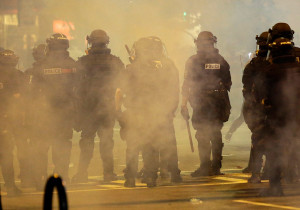 She states her father, whom she describes as disabled, was waiting for a school bus to drop off his son and was sitting in his car reading a book. She said police tasered him and shot him four times as he emerged from the car.
After the fatal shooting, protests took place close to the car park of the apartment complex where Scott was shot, with demonstrators closing down Interstate 85 and smashing the windows of a nearby Walmart.
The second day of protests saw more violence in downtown Charlotte, where a peaceful vigil took place followed by chaotic demonstrations in which protesters were teargassed and a man at the protest was shot.
The state of emergency is intended to allow police to focus on public safety while the National Guard protects residential and business properties and restores order.
It is not yet clear how long the emergency measures will remain in place.