She is a reality television star, supermodel, "fashion icon of the decade" and now real estate mogul – is there anything Kendall Jenner cannot do?
The 21-year-old has just splashed out on a beautiful Spanish-style mansion in Beverly Hills for $8.55m (£6.4m), according to Trulia. The five-bedroom, six-bathroom mansion is in the Mulholland Estates neighbourhood which is famous for its high-profile residents including Christina Aguilera and DJ Khaled.
The lavish home previously belonged to comedian Charlie Sheen who bought it with his then-wife Brooke Mueller in 2012. It was built in 1991 and the gated property features a family room with French doors leading to the gardens, a chef's kitchen with an island and breakfast bar including a movie theatre.
The master suite also includes a fireplace, vaulted ceilings with wood beams, big television and a chandelier. A picturesque courtyard is one of the main outdoor assets along with a fountain, swimming pool and tennis court.
Sheen listed the property measuring 6,625sq ft following his split with Mueller in 2013, but did not find a buyer until last year. The house was purchased in June 2016 for $5.4m (£4m), which is $3.1m (£2.3m) less than what Jenner has reportedly paid for it.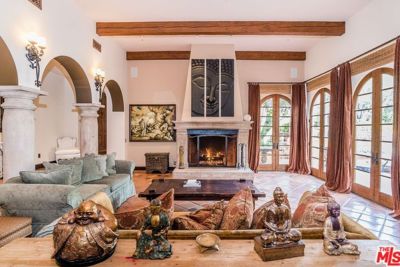 A traditional Spanish tile is featured throughout the property as well as decorative stone pillars and floor-to-ceiling windows – making it a stark contrast to the modern properties belonging to the Kardashian-Jenner clan with contemporary décor. The front of the mansion is surrounded by foliage and a security gate meaning that the Estee Lauder model can enjoy plenty of privacy while at home.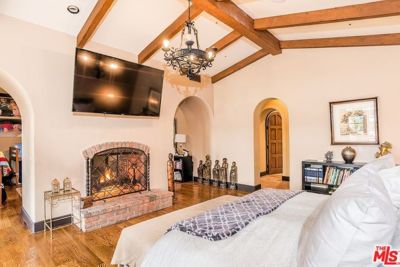 The property is the third home that Jenner has bought in recent years, with Trulia claiming that she moved into her first "starter home" in Westwood, Los Angeles, in 2014 after buying it for $1.3m (£986K) and later selling it for $1.6m (£1.2m). She then traded up to a $6.5m (£4.9m) mansion that she bought from John Krasinski and Emily Blunt, later selling it for $6.85m (£5.1m).