A large snake photographed by the Australian police has become a social media sensation. Two officers were on night patrol near Wujul Wujul, a small Aboriginal community in North Queensland when they spotted the giant scrub python making its way across the road.
Sergeant Ben Tome and Acting Senior Constable Chris Kenny were forced to stop their car and wait for the reptile, which they assumed was around 16 feet long, to move on.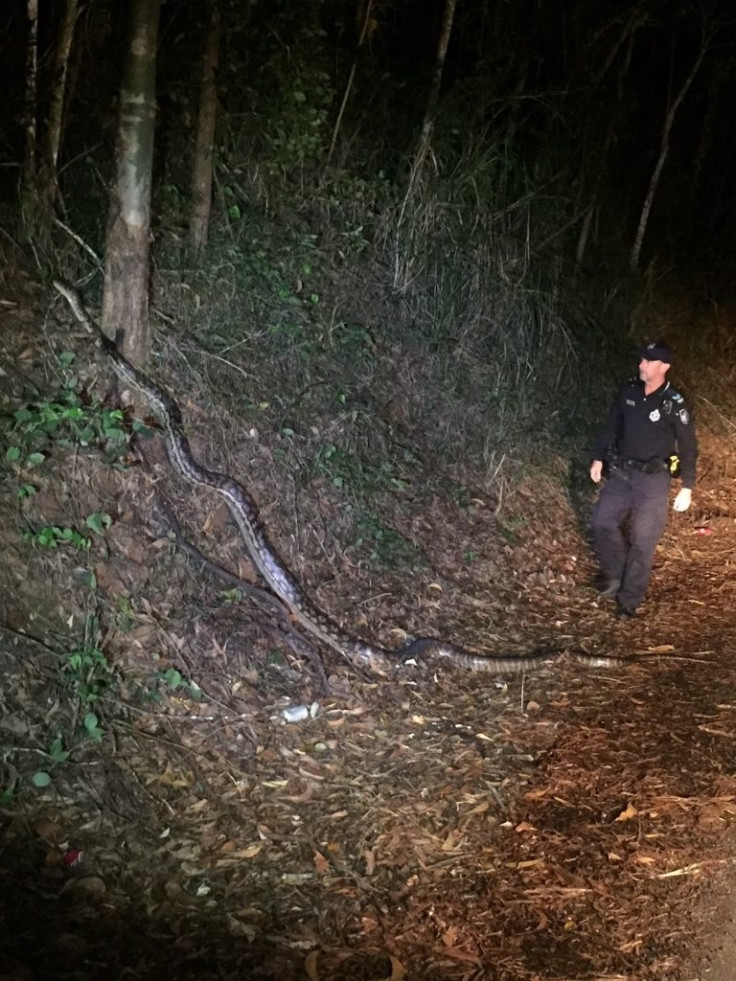 "Fair to say that the snake was over five metres [long] but not really the type of reptile that you want to take a tape measure to," police told the BBC. Scrub pythons are the longest snakes found in Australia and can grow up to seven metres in length.
In a post on their website, the Queensland Police Service joked that they "don't do boring". "You never really know what you are going to come across in a single shift," the post read. In the photo, Kenny is seen standing near the snake, keeping an eye on it as it made its way into the bushes.
Dave Walton, a Cairns snake removalist, told the Australian Broadcasting Corporation that it was smart of the officers to keep a safe distance from the python.
"Certainly if you were to attempt to pick it up or grab it or poke it with a stick they can swing around quite quickly and if he grabs hold of you, you're in all sorts of trouble," he said, adding that considering how rare it was to see larger snakes near built-up areas, chances are the one caught on camera was very old.
"For a snake to be lucky enough to live long enough to get to that size is reasonably rare, because they often get themselves run over or captured or killed."
Since sharing the image on 11 December, the post has received over two million views and 10,000 comments, ranging from basic shock at the size of the snake, to jokes about how the Chamber of Secrets has been opened again.