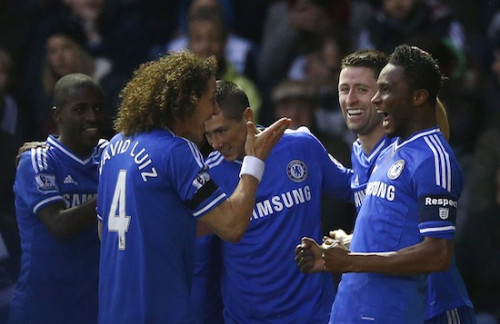 After last Monday's stunning victory against the self-proclaimed 'best team on the planet', Jose Mourinho seemed to be at his happiest since he proclaimed himself the 'Happy One' at the beginning of the season. And why not.
There is nothing like it when a plan comes together, and Jose's A Team certainly delivered a victory against their main rivals with tactical precision. A victory very much in the manager's own image and one that Chelsea supporters will hope is all part of the master plan.
Of course, in the warm post-match afterglow, Mourinho did all he could to dampen talk of Chelsea now being favourites for the Premier League title. Apparently, Chelsea are the third horse in a two-horse race, and in need of more milk and sugar cubes before a full scale gallop for the title next season.
All of us who witnessed Jose's first spell in charge at the club have seen this before. It is another calculated tactic in the same way that bringing in Luiz to partner Matic and pushing Ramires up the right flank was. And it's not just about his ego.
Mourinho is a master at deflecting attention, and pressure, away from his players, the aim being to allow them to exist in a hermetically sealed bubble of his controlling so that they can focus 100% on the job in hand. However, after Monday's display, it will now be hard for any supporter to continue to believe that Chelsea are not serious contenders for the title.
In fact, having been there to witness the progression this team has made over the last five months, I am beginning to come round to the idea myself.
At the start of the season I felt we may come up just short. My heart said we'd win the title, but my head said second or third was more likely. City's squad appeared to have more depth and a formidable strike force. Subsequently they have been banging the goals in at an alarming rate.
Arsenal made an excellent start, and with the re-acquisition of Flamini (err didn't they do a Matic here?) appear to have someone capable of adding a bit of defensive solidity in midfield. Even their defence seem more solid and secure than in seasons past.
The surprise at Chelsea has been the speed at which Mourinho has begun to gel the team, and - more important - get them to buy into his vision of how to compete and play on the field.
The defence has stopped conceding stupid goals and now appears to be very settled, with Terry and Cahill arguably the best central defensive pairing in the league. As a result, without the panic in front of him, Petr Cech is reminding everyone that he is still one of the best keepers in the world – a point evinced by two world class saves that helped in no small way to deliver victory for Chelsea against City.
The triumvirate of attacking midfield players in Hazard, Oscar and Willian are delivering the Mourinho brief of fast, creative counter-attacking football, together with the ability to press high and win the ball back in the opposition's half. They are bringing energy and a sense of responsibility to how Chelsea plays.
The signing of Matic in the transfer window also appears to have solved the issue with our defensive midfield. In his few performances so far he has shown great authority and maturity in displays which have seen him win the ball and distribute it forward, quickly and to great effect.
Matic is a beast of a player,as Yaya Toure will attest, having been on the receiving end of the sort of challenge he usually metes out himself. We now have options here.
Of course the main and glaring weakness remains. Chelsea have no world-class striker capable of scoring 20-30 goals this season, and certainly nothing to compete with City's Aguero, Negredo or even Dzeko. This is also why Mourinho (if he is telling the truth) claims that we can't be taken seriously as title contenders, and hitherto I have been inclined to agree.
However, there are serious reasons as to why Chelsea should now be seen as serious title contenders, the lack of a potent strike force notwithstanding.
City may well be favourites, but a comparison of their bench to Chelsea's last Monday revealed an alarming lack of depth when they are missing two or three key players. Could it be that the richest club in the world have not bought wisely? Are they as vulnerable as any other team when hit by an injury crisis?
Furthermore, Pellegrini has not won a major championship in Europe. The closest he came was when his Real Madrid side achieved 96 points in La Liga, the highest points total that Real Madrid had ever achieved in a La Liga season up to that point (since surpassed by the 2011-12 team under Mourinho), but still finished runner-up. Will he be able to stand the pressure if it gets too hot? Will he choke?
Arsenal may have similar issues, being vulnerable to injuries and a lack of squad depth, not to mention the psychological barrier in getting over the line for the first time, in any competition, in eight years. They also have a horrible run of fixtures that could make or break their season. In February and March they play Tottenham, Chelsea and Everton away and Man City at home in the Premier League, as well as the FA Cup tie against Liverpool and Bayern Munich home and away in the Champions League.
Chelsea on the other hand have a comparatively easy run in; they do have Arsenal, Tottenham and Everton, but at home with the only genuinely tricky match being Liverpool away in May. More pertinent (and with those fixtures in mind) is Chelsea's performances against their main rivals to date.
In matches with the top four, Chelsea have only dropped two points (against Arsenal away), and are unbeaten with 10 points. In a Premier League which promises to be the closest for many years, points dropped or won against your main rivals for the title could be the crucial deciding factor in winning it.
And then there is the Mourinho factor. I said on the first Chelsea FanCast of the season in August that Jose, like Sir Alex Ferguson in those long-gone days when Man Utd competed for the Premier League title, is a manager who is worth between 10-15 points a season through the sheer force of his managerial acumen.
Judging by Chelsea's results in the key matches this season, and his tactical plans before and during the game, I have no doubt that Mourinho enables the team to win or draw in games that they may otherwise draw or lose. How many games have we won or drawn this season that a manager such as Rafa Benitez may have drawn or lost?
Jose Mourinho is a natural born winner, and in spite of his public pronouncements to the contrary, I have absolutely no doubt that he will do everything in his considerable power to secure his third and Chelsea's fourth Premier League title this year, a year ahead of schedule. Stranger things have happened.
David 'Stamford Chidge' Chidgey presents the award winning Chelsea FanCast TV show and podcast which can be seen every Monday at 19.00 on SportsTonightLive.com or You Tube or heard at mixlr.com/chelsea-fancast/ or downloaded from ITunes. Follow us on twitter @StamfordChidge and @ChelseaFanCast