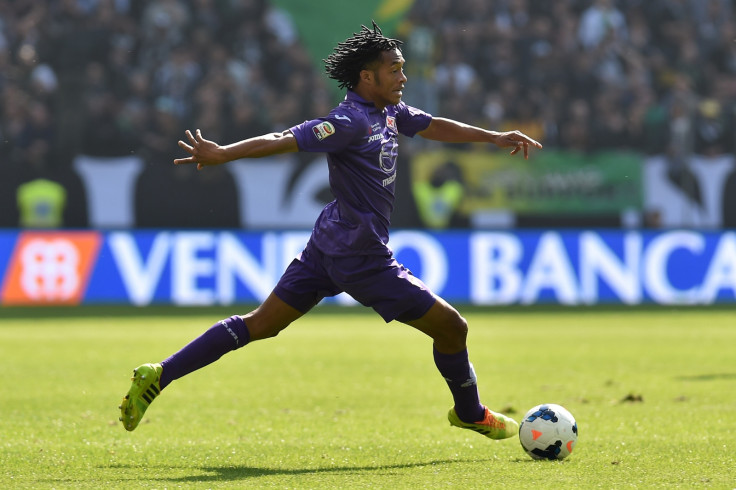 Chelsea manager Jose Mourinho insists he had "no idea" whether Fiorentina star Juan Cuadrado was in attendance during his side's 1-1 draw with Liverpool on Tuesday.
In the past few days Cuadrado, 26, has emerged as a target for the Premier League side amid suggestions that Mourinho is seeking an upgrade on Andre Schurrle and Mohamed Salah, both of whom have been marginalised figures this season.
The Colombian winger, who was relentlessly linked with a move to Manchester United during the summer transfer window, was reportedly invited by Chelsea and Adidas to attend Tuesday's Capital One Cup semi-final clash at Anfield.
Mourinho remained coy on the issue however, insisting he had 'no idea' whether the winger was in attendance or not.
While the Chelsea manager has previously maintained he is happy with his current squad, he has indicated he may allow Salah to leave the club should they bring in an improved replacement first.
"I have a very short squad, I need everybody," Mourinho told reporters on Saturday. "For Salah to leave someone has to come, and I don't think we are going to let Salah go on loan and then spend some money to bring somebody else in.
"So I don't think so, unless my club comes to me and says Salah goes on loan and we are going to buy a £50m player."
Salah is yet to start a Premier League game this season and just a year on from his arrival from FC Basel, continues to be heavily linked with a move away from Stamford Bridge.
The Egyptian international recently moved to deny comments suggesting he was poised to join Serie A side Roma on loan until the end of the season, but interest in the winger remains high, with QPR manager Harry Redknapp also keen on a deal.