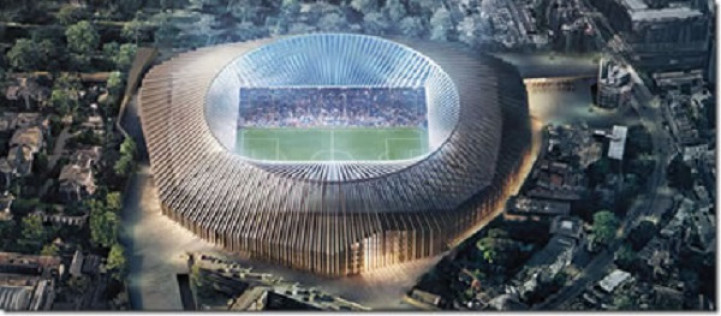 Chelsea plan to demolish the whole of Stamford Bridge and build a new 60,000-seater stadium in its place, the club have confirmed within the planning application for their new ground. The Blues' home since 1905 will be completely torn down to make-way for a larger stadium that will boast the third biggest capacity in the Premier League.
The redevelopment will also include a new club shop and museum, as well as a separate restaurant and café. New pedestrian access from nearby Tube station Fulham Broadway and Fulham Road will also be incorporated into the construction.
Many of the details, including the flattening of the two hotels built onto the side of the existing Stamford Bridge, contained within the application have been previously released. However, there was no previous indication that the entire ground would be taken down. The new ground would not therefore have a link to a stadium which has been Chelsea's home for 110 years.
Comments and objections to the plans must be submitted by the end of the consultation process on Friday 8 January 2016 before a decision is made regarding whether building can go ahead. Chelsea hope to move into the new stadium in time for the start of the 2020-21 season, however opposition to the plans could see that date pushed back.
A statement on the London Borough of Hammersmith and Fulham website reads: "The council has received a full planning application to build a new football stadium within Stamford Bridge Grounds. The application comprises the demolition of the existing football stadium which has a capacity of 41,600 seats and other buildings within the ground, and the construction of a new larger football stadium with a 60,000 seat capacity. Other features include ancillary stadium-related uses including a club shop and museum, plus a separate restaurant/café use."
No confirmation of the potential cost of the upgrade had been confirmed by Chelsea, although the Daily Mail understands owner Roman Abramovich could invest £500m ($753m) into the building work. The new ground will help improve the club's matchday revenue, which in the 2013/14 season stood at £71m – way behind rivals Arsenal (£100m) and Manchester United (£108m).
The current Premier League champions are yet to confirm which stadium will host their games from 2017, when construction begins on the Stamford Bridge site. Wembley has been touted as a potential option but a decision is yet to be made with Tottenham Hotspur also hoping to make the home of the England team their temporary home during their own stadium overhaul.