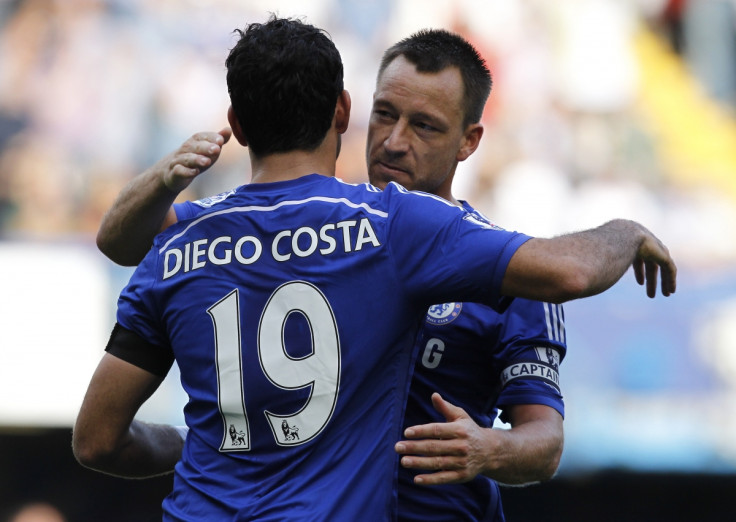 Chelsea have denied claims captain John Terry and striker Diego Costa were recently involved in a training ground altercation. TalkSPORT pundit Stan Collymore claimed on live radio on Sunday evening (13 September) the two Chelsea stars became embroiled in the bust-up at Chelsea's Cobham base. His comments came the day after the Blues' 3-1 defeat at the hands of Everton, their third defeat in the first five games of the season.
Collymore claimed such clashes were normal at training grounds across the country but added: "In the context of two very big personalities in the dressing room not winning games, that could fester and become a problem. In a harmonious [dressing room] everyone gets on, not best buddies but everyone respects each other."
But the Independent now reports Chelsea have strongly denied suggestions of a clash between two of their most important first team players, with Collymore clarifying on Monday night he had also been contacted by Chelsea's press officer.
"Yesterday I made the suggestion that Diego Costa and John Terry had a contretemps (handbags, ruck, scuffle, call it what you will) recently in training," Collymore wrote via Twitter. "Steve Atkins, Chelsea's press officer, contacted me this evening and after consulting the players, coaching staff and manager, he stated that at no time did John Terry or Diego Costa have a 'bust-up'.
"I take great care and pride in making sure any suggestions, stories or rumour that i suggest on air or in print are verified by not one but sometimes more than two separate sources.
This was the case on this occasion, and I stated this to Steve Atkins.
"However, I'm not beyond getting things wrong, am happy to hold my hand up and say I was on this occasion, so therefore it is right and proper to apologise unreservedly to Diego Costa, John Terry and Chelsea Football Club for any inconvenience caused."
Chelsea's miserable start to the season sees them fourth from bottom with just four points from their opening five games, 11 off leaders Manchester City. Jose Mourinho's side begin their Champions League campaign on Wednesday 16 September against Maccabi Tel Aviv, ahead of a crucial showdown with Arsenal at Stamford Bridge on Saturday.
In order to address their slide ahead of the two key games, the Daily Telegraph reports Mourinho has banned all "banter" from the club's training ground as the club tries to put a stop to its worst start to a season since 1988.