Frank Lampard has admitted when he looks at Eden Hazard, he sees qualities reminiscent of Chelsea legend Gianfranco Zola in the playmaker, insisting that this season the Blues have produced many positive notes like the young star.
Chelsea currently sit fourth in the table, and while their title chances are over the side are still looking towards progressing in the FA Cup, having forced a replay with Manchester United two weeks ago.
And Lampard is concentrating on those positives, saying that players like Hazard give him hope that the west London club will continue to be successful on the trophy front in the future.
"The last few weeks he [Hazard] has been absolutely top drawer," he told the Daily Mirror. "It reminds me of when I came here with Zola. He was something I'd not seen before, with his awareness and ability on the ball, the stop-start and the way he turned on a sixpence.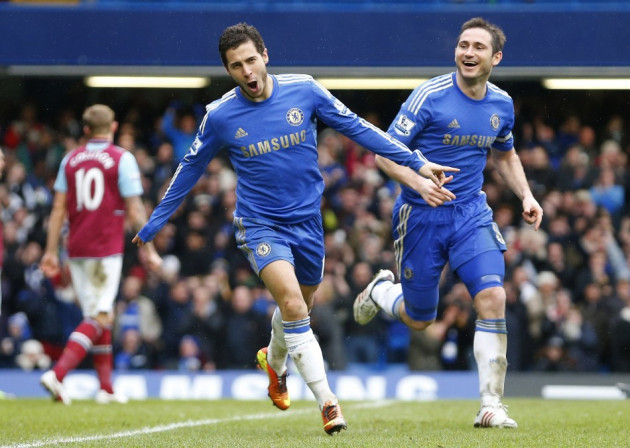 "I've said to him that he's got absolutely everything. He's got the potential, he's 22 years of age and his ability on the ball is scaring the life out of people.
"When you have players playing like that, the level he's at and the level Mata's been at all season, you're going to scare teams and it's an absolute pleasure to play with them, something I'm really, really enjoying."
Lampard insisted that Hazard and Mata will only get better, as they learn and develop to play to each other's strengths.
"These boys give us a lot of hope for the future," he explained. "There are a lot of positives at this club and at times this season they haven't always come out for different reasons.
"But when you see them playing and you recognise how young they are, you try to fit them into the system. It's all developing but when you see the results of it, it's very exciting for the club and for the fans. They can make special things happen."
Lampard himself has had a successful season, though he is yet to sign a new deal with Chelsea as his contract runs down with the club.
The England international scored his 200th goal for the side against West Ham at the weekend, and Rafa Benitez was one of many to heap praise on the star.
"We were expecting him to score today, because the team were creating chances," he said. "He has broken a great record and hopefully can score more goals."