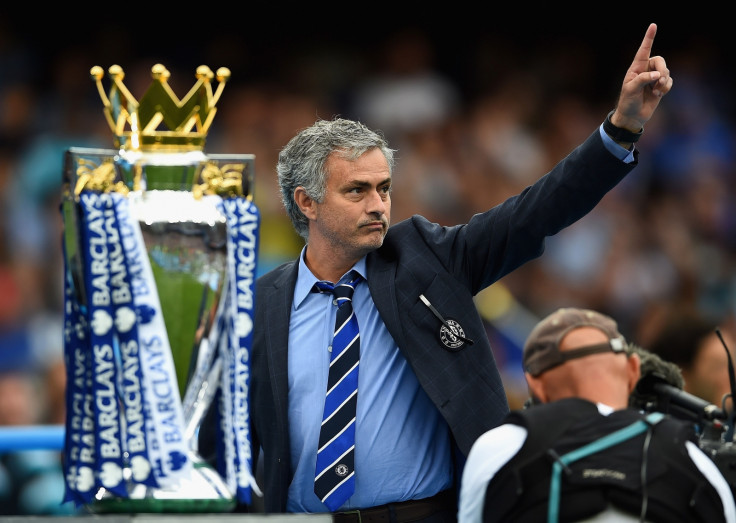 Jose Mourinho believes that it can be a dangerous ploy to not spend too much after a title winning campaign, as there is a chance that the teams below them can strengthen and pip them in the race.
However, the Blues manager is confident that his current players can move forward and bring in an extra dimension which can make them better and equip them for a proper title defence.
The defending Champions have brought in Radamel Falcao on loan from Monaco and Asmir Begovic from Stoke City to replace Petr Cech, who made his way to Arsenal after being dropped to the bench following the emergence of Thibaut Courtois.
On the other hand, the likes of Manchester City and Manchester United have brought several players to spruce up their title challenge. United have made five signings thus far with two still on the horizon as per Louis van Gaal.
City have spent big on Raheem Sterling and will be hoping that the England international can bring some flair to their attack, which slacked off in the business end of the season.
The five-time league Champions have not had the best of pre-seasons thus far, losing to Arsenal in the Community Shield and followed that up with a mediocre performance against Fiorentina.
"It's dangerous. I think what you are saying, that saying, is right. You say if you stand still you get worse. It's right," Mourinho said, when quizzed about his lack of transfers, as quoted by the Mirror.
"But the same people can move forward. You don't need to buy 10 players to be a better team. You can be a better team with one or two new players and be a better team, with the same people.
"The advantage, I hope, the biggest advantage is for them to think together and say together 'my club and my manager they trust me so much, they were so loyal to me and they want to show me that they have a good memory.
"This is the most important thing: for them to give us what I think we deserve. They deserve our confidence, but I think now is our time to deserve a compensation of that and the players to give us everything they have and keep the level of ambition and motivation.
"That's most important, the second thing, the team has some routine, some tactical mechanisms and is based on stability, it's not based on a quick improvement like bringing a lot of new players can help to do. It's based on stability," he added.
The Blues start their Premier League title defence against Swansea City on Saturday (8 August) in an evening kick-off with Arsenal and Manchester City playing the next two days.