Chelsea fans may have been disappointed to learn that Pep Guardiola would be joining Bayern Munich but they will be pleased to learn that the club are close to landing highly-rated Malaga midfielder Isco.
The 20-year-old is one of the most sought after players in La Liga after helping Malaga qualify for the Champions League last season, while his stock has risen even further this year as he has excelled in the European competition.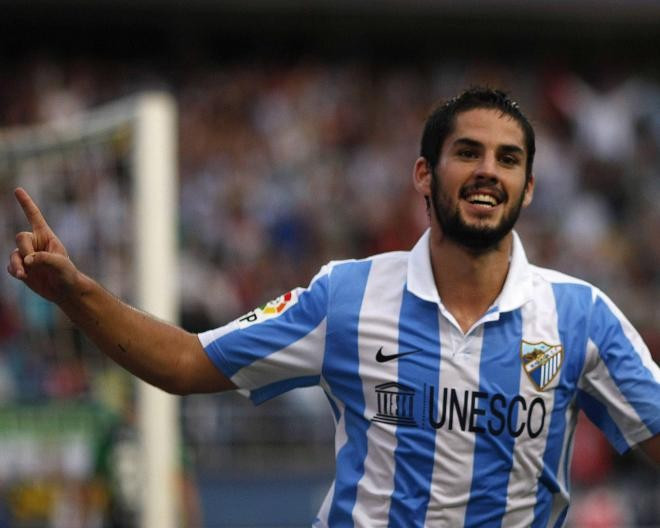 Malaga were undefeated during the group stage of the Champions League and now face Porto in the knockout stage of the tournament.
While it seems Isco will remain at the club until the end of the season, the Evening Standard believes that Chelsea have secured a first option to buy the midfielder in the summer.
The two clubs recently worked together in order for Chelsea youngster Lucas Piazon to join the Spanish club on-loan for the rest of the season.
The Standard believes that part of the deal that saw the Brazilian move to Malaga allows Chelsea to have priority when it comes to Isco leaving the club. It is largely expected that he would leave in the summer, especially after the news that the club have been banned from European competition for next season.
Malaga have major financial problems and it is expected that they will once again be forced to sell their best players, as they had to do last summer when Santi Cazorla moved to Arsenal.
Chelsea already have a number of Spanish players in their squad with the likes of Juan Mata, Oriol Romeu, Cesar Azilpecueta and Fernando Torres all at the club, while Rafa Benitez could well be in charge of the club beyond the end of the season.
However, even if Isco arrives, it is now certain that he will not be working with Guardiola who was believed to be a target for the west London club.
The former Barcelona manager had hinted that he wanted to work in England, and with Benitez only in temporary charge at Stamford Bridge, he had been heavily linked with Chelsea.
But his decision to join Bayern Munich on a three-year deal means Chelsea will have to look elsewhere in the summer.