Frank Lampard says he is planning on emulating the likes of Manchester United stalwarts Ryan Giggs and Paul Scholes, with the Chelsea hero hoping to continue long into his 30s for the club as they aim to win more trophies.
Lampard was instrumental in his issues with Andre Villas-Boas at the start of the year, and since the Portuguese tactician was fired from Stamford Bridge, he has gone from strength to strength and had a big hand in taking the Blues to the Champions League final.
And though Lampard is now 33 years of age, he believes that there is more than another year left at Chelsea before he hangs up the boots for the last time.
"I love Chelsea and, ideally, I will be here longer than just one more season," he told the Sunday Mirror.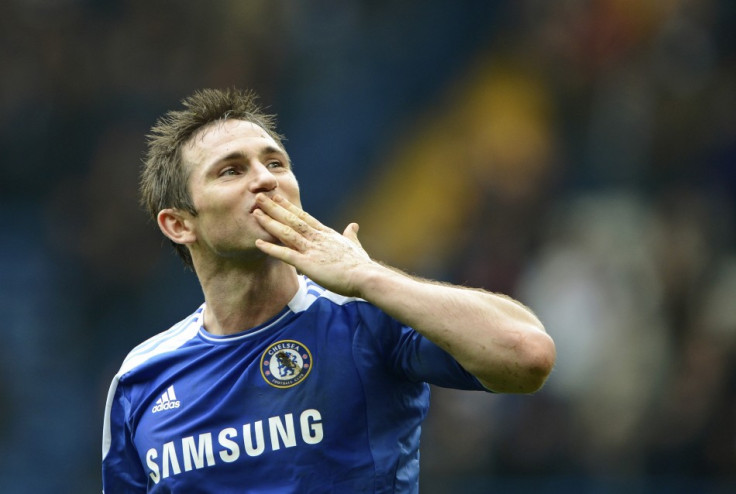 "I look at people like Paul Scholes and Ryan Giggs at Manchester United and see what they are still doing and I would love to do the same for Chelsea. I want to emulate them."
Giggs and Scholes are both one-club men at United, and while the former is now in his 21st consecutive season with the English giants, the latter has returned from retirement this year at the age of 37, and came third in the Football Writers' Player of the Year awards.
And while the pair are both going from strength to strength with United, Lampard says he wants to commit to Chelsea in the same way they have shown their commitment to the Red Devils.
"I considered playing abroad three or four years ago, that's true. But I decided to be here at Chelsea for the long haul," he said.
"You can see what can be achieved by players like John Terry and Steven Gerrard who have been one-club men. Talks are planned with the club in the summer and as long as they want me, I would be more than happy to continue.
"As you get that bit older, you can't play the same way as you did five or six years ago. But I still feel I can contribute. I still feel good and I feel fresh in training and I am enjoying my football as much as ever."
Giggs and Scholes are currently preparing for United's biggest game of the season, and despite their ages the pair will no doubt play a big role in their side's mission to keep the advantage over second-placed Manchester City in the table.
Lampard, meanwhile, has date set for Allianz Arena on May 19, and should Chelsea be able to overcome their opposition, Champions League qualification will be guaranteed for next season and the Blues will have finally won the coveted trophy that Roman Abramovich has been gunning for.