Chelsea Hold Peace Talks With Clattenburg
Bruce Buck seeks out a meeting with Mark Clattenburg to clear the air after investigation into racial claims dropped by the FA
Chelsea have approached Mark Clattenburg for a personal meeting, according to reports, with Bruce Buck seeking out the referee to explain why the club pursued racial allegations against him.
As the Blues lost 3-2 to Manchester United some weeks ago, Ramires accused Clattenburg of referring to John Obi Mikel as a 'monkey'. Chelsea reported the accusation to the FA, but especially given the fact that Mikel didn't hear the alleged comment himself, not enough evidence was given to bring a charge against the elite Premier League ref.
Since the FA dropped their investigation into Clattenburg, Mikel has been charged with misconduct following a fiery encounter between the pair after the match.
And now Bruce Buck is believed to have sought out Clattenburg in person to explain why Chelsea had to go ahead with reporting the allegation.
Chelsea have made no apology over making the accusations, but Buck reportedly met with Clattenburg at the national football centre at St George's Park in Burton-on-Trent, where there were 16 elite Premier League referees undergoing a scheduled training camp.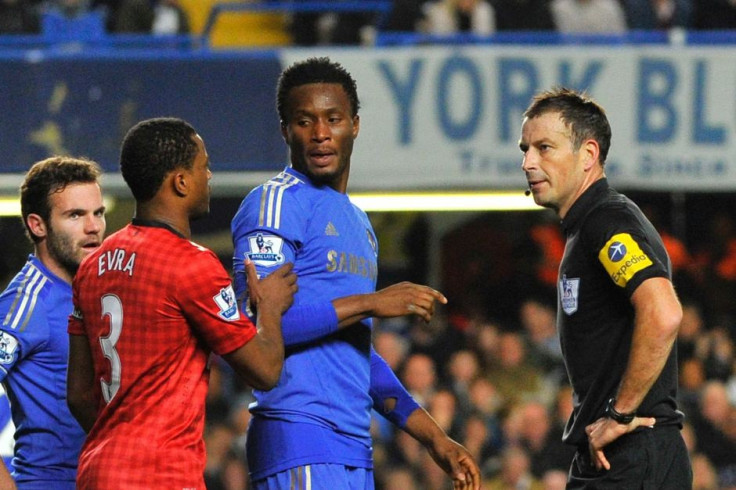 According to the Guardian, the talks progressed well, with Premier League chief executive Richard Scudamore and Professional Game Match Officials chief executive Mike Riley both present.
Chelsea have faced a lot of criticism over their handling of the situation regarding Clattenburg, with the referee expressing relief that the allegations have been shown to be without merit.
Buck publicly defended the club's stance two weeks ago, telling reporters: "The reaction has been very unfair. We weren't interested in any confrontation with the referee or anybody else, had no thoughts of revenge on the referee.
"He made two obvious mistakes [sending Fernando Torres off and allowing Javier Hernandez's offside winner] which changed the tide.
"I felt we had the moral high ground, so I didn't really feel that bad about the defeat or have that feeling in my stomach. I thought we'd be treated very kindly in the newspapers next day."
Some of the criticism came from the view that Chelsea had been supportive of captain John Terry as the former England international was found guilty by the FA of racially abusing Anton Ferdinand.
But now the club wants to move on from the controversy surrounding Clattenburg, and is believed to be open to the idea of him officiating a game for them in the future.
© Copyright IBTimes 2023. All rights reserved.