Roman Abramovich is considering offering interim manager Rafael Benitez a long-term contract, after the former Liverpool boss' impressive recent run. The Blues began life under Benitez poorly, drawing the first two games and then losing the third to West Ham United. However, since the 6-1 home defeat of Danish side FC Nordsjaelland, the European champions won six of the last seven games.
Benitez signed a six-month deal with the west London outfit in November, when he took charge after Italian Roberto Di Matteo was shown the door at Stamford Bridge.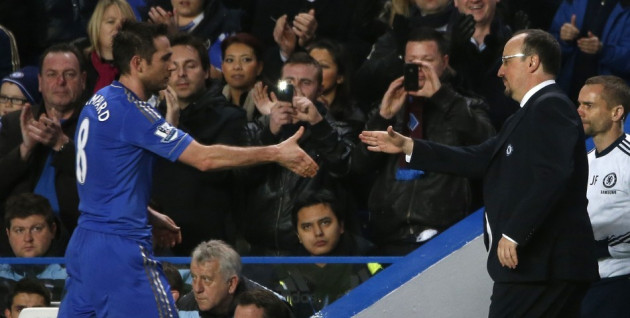 The 52 year old former Inter Milan boss has even managed to resuscitate compatriot Fernando Torres' career at the Bridge. The 28 year old Spanish international, who worked with Benitez when the duo was at Anfield, has now scored seven times in the last seven games for the club.
And should Abramovich offer Benitez a longer contract, it will likely be because he has managed something that ex-managers Carlo Ancelotti, Di Matteo and Andre Villas-Boas all failed to achieve. Also, according to The Sun, Abramovich has been impressed with Benitez's management style
The news is likely to come as a shock to sections of the club's fans, who heavily criticised the Spanish tactician's appointment in the first place. Fans and pundits believed Benitez was hired purely as a stopgap and the club would continue to pursue either ex-Barcelona manager Pep Guardiola or try and persuade Jose Mourinho (now with Real Madrid) to return to west London.
However, Guardiola is now being linked with a return to Barcelona and Mourinho reportedly set to chose one of Manchester United, Manchester City or Paris St-Germain when he quits Madrid, Benitez has emerged as a top contender.
Cech: Rafa Made the Difference
Chelsea shot stopper Petr Cech has hailed Benitez for helping the club end its poor run of form and sorting out problems in defence. The Czech Republic star had two clean sheets to his name this week, as the Blues registered an 8-0 win over Aston Villa and a 1-0 win against Norwich City.
"We look better organised. That is the difference. We were conceding so many goals - we were very open and suddenly we're defending as a team much better. I think that is the key as we were not defending well as a team. It is great to win a 1-0 game as it shows we were resilient and well organised," Cech told the Daily Mirror.
Chelsea defender Gary Cahill also thanked Benitez this week, for helping the club achieve a good run of form.