England Are Laughing: Germans Lament Hildebrand's Mistake Against Chelsea
The German press turn on Schalke keeper Timo Hildebrand after Chlesea defeat the side 3-0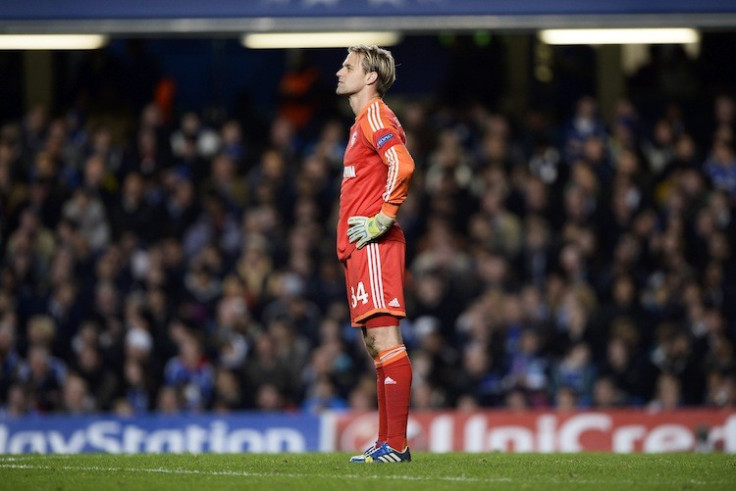 The German press have turned on Schalke keeper Timo Hildebrand, claiming that his mistake was the turning point which enabled Chelsea to inflict a painful 3-0 loss on the Bundesliga side in the Champions League.
Schalke began the match on the front foot with the Blues failing to mount any serious attacks, but Samuel Eto'o was able to take advantage of Hildebrand's delayed clearance to score the opening goal and his first of two in the match.
Bild has lamented the fact that England are now laughing at a German keeper, rather than the other way around, for the first time.
Hildebrand told Sky: "I feel bitter that I have initiated our defeat like that. I feel sorry for my teammates and the club."
Asked how he felt after the mistake, he responded: "Very lonely."
The performance from the stopper couldn't come at a worse time as local paper Ruhr Nachrichten reports his future with the club is already under question as the side sit in a disappointing sixth place in the Bundesliga table and have now lost to Chelsea convincingly in both group games.
But it wasn't all negative on the night with Die Welt pointing to Julian Draxler as a stand-out attacking player once again. The hugely talented young midfielder has been connected with a possible move to the Premier League on a number of occasions and the paper agrees with Jose Mourinho's assessment that Schalke were doing well until their fatal mistake.
Schalke manager Jens Keller insisted after the match that his side's chances of progressing through the group stages weren't beyond the realms of possibility, claiming: "We still have two games that are feasible. The situation has not deteriorated yet.
"We knew no matter what happens here today (against Chelsea), that we still have Champions League progression in our hands."
Schalke sit in second place in Group E and are just three points behind the Blues who are now on the brink of qualification for the next stage.
© Copyright IBTimes 2023. All rights reserved.