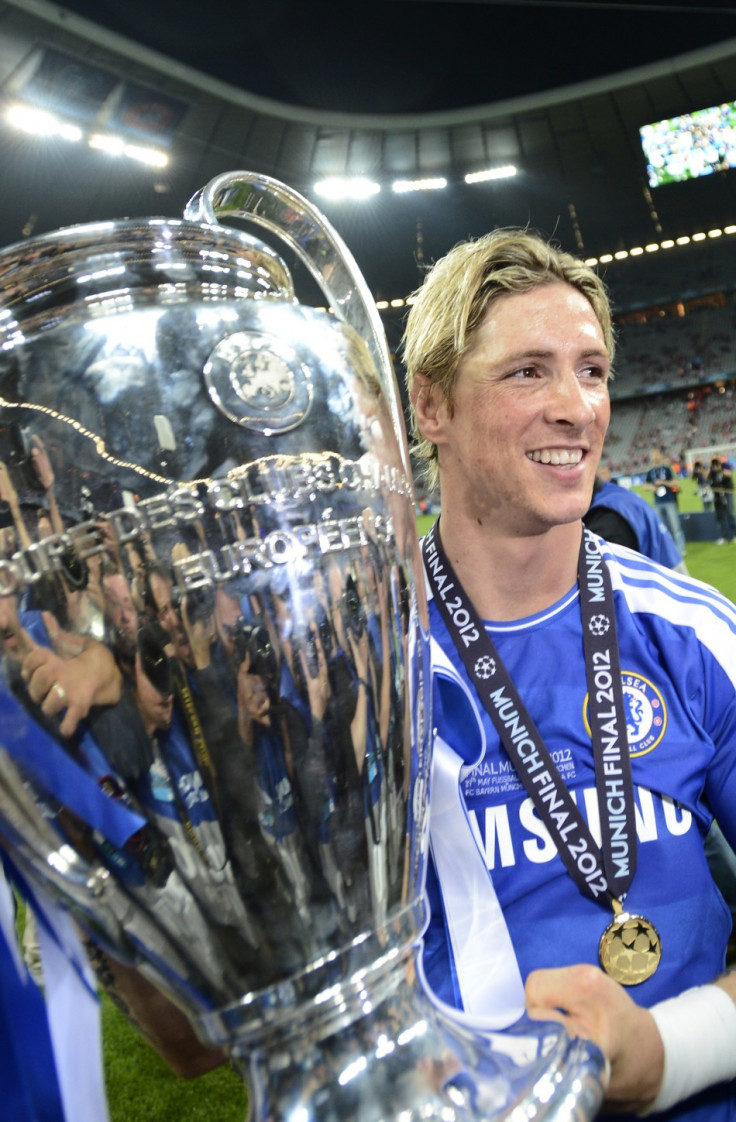 European champions Chelsea will have to put aside the euphoria and joy of winning their first ever Champions League crown on Saturday and sit down with striker Fernando Torres, after reports emerged the Spaniard was "shocked" at his being dropped from the starting eleven for the game against Bayern Munich and is considering his future at Stamford Bridge.
Torres signed from the Blues' domestic rivals Liverpool for a British record £50mn on deadline day during the January transfer window last year, amid hopes he could re-create his prolific form with the Reds and help Roman Abramovich's side claim European success. Unfortunately for the parties concerned, Torres has since had an exceedingly disappointing and, given his transfer fee, unrewarding time in London, scoring only a handful of goals in over 50 appearances.
He seemed to experience some sort of revival in form and confidence under Chelsea's interim manager Roberto Di Matteo, scoring the club's second goal in the second leg of their Champions League semi-final tie against Barcelona (to seal the Blues' spot in the final) and his first hat-trick for the club in the next game, a league tie against QPR. However, his form since then has been average, prompting Di Matteo to start Ivorian international Didier Drogba in his place.
"I was expecting to start. It was a big surprise for me, a big disappointment. But, in the final, the main thing is to win - it doesn't matter who plays," the Spaniard said, in an ESPN report, in which he admitted to being "shocked" when not picked.
Worse still, the striker appeared to have an argument with Di Matteo during the game against Bayern, when the coach was selecting his penalty shootout takers; Torres was eventually not selected, with the 41 year old coach opting for Juan Mata, Frank Lampard, Ashley Cole, Didier Drogba and David Luiz.
"We needed to attack. We were playing like we had the handbrake on, looking like we couldn't attack, but I think we could, and in extra-time we showed we could play counter-attack as well," he explained in a report by The Sun.
Torres' form during his time at Chelsea has led to several suggestions he may be sold during the summer, as Abramovich contemplates a revamp of his squad and the frustration on the player's face during the game against Bayern was evident.
"It's contradictory because I feel like I'm at a peak moment in my career, with more desire and hunger than I've felt in a long time, but I've had to spend the final on the bench. It was a huge disappointment when I saw the line-up, perhaps the biggest in my life. This season I have felt things that I never had before. I've felt like they treated me in a way that I didn't expect, not in the way that was spoken of when they signed me. We've had a lot of talks and we'll talk about my future because the role I've had this season is not for me, nor is it the one I expected to play when I came here. I'm not comfortable. I want them to tell me what is going to happen in the future," he said, to guillembalague.com, according to an ESPN report.
Should Torres push for a transfer, there may not be too many options for either club or player, given the latter's lack of form and Chelsea will almost certainly make a huge loss. Torres, in addition, will have to take a definite pay cut - he reportedly earns £175,000 per week at Stamford Bridge.
One possible destination for the player, though, is the Vicente Calderon - a return to his hometown club Atletico Madrid, with the Spanish club's Colombian striker Radamel Falcao moving the other way, according to a Goal.com report. The story leaked a few days ago and was promptly denied by Di Matteo but given Torres' recent statements, Chelsea may re-look at the possibility.