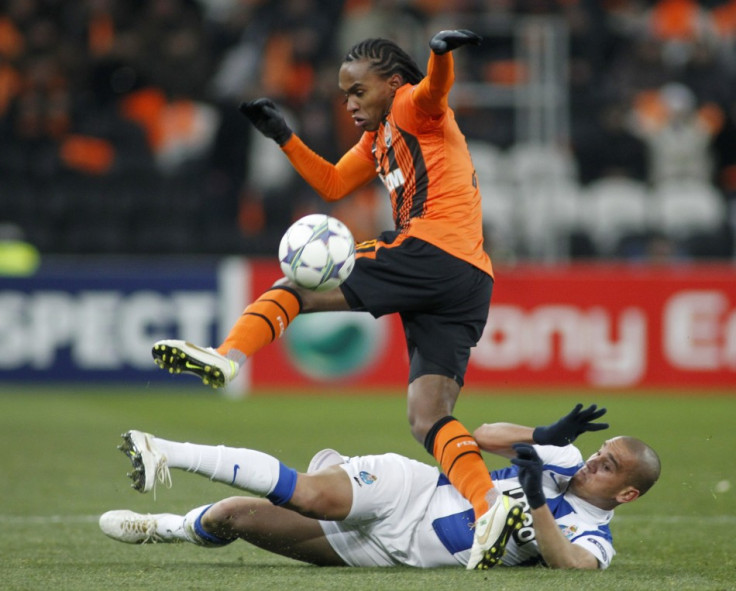 Shakhtar Donetsk midfielder Willian has admitted he would welcome the opportunity to move to Chelsea.
Chelsea had a £16.5 million bid rejected for the Brazilian international earlier in the week even though Andre Villas-Boas intimated the fact he was ineligible for the Champions League made him an unlikely target.
Donetsk confirmed they had received a bid from Chelsea which fell below their valuation and indeed the playmaker's lofty £29 million buy-out clause, yet Willian has stated his intention to move to Stamford Bridge in order to cement his place in the Brazil squad ahead of the tournament in 2014.
The attacking midfielder was the catalyst to Donetsk's startling run to the Champions League knockout stages, the first in the club's history, and Arsenal manager Arsene Wenger has also been associated with the player, who is equally adept on the left of midfield.
Chelsea are likely to make a second overture for Willian in the coming weeks and prior to the close of this month's January transfer window, and it seems the Blues' interest in the talented star is hugely welcome.
"I wouldn't have any fears about coming to England because I have played against English sides in the Champions League and studied the English game," The Chelsea target told The Sun.
"To play in a league that is seen throughout the world would be good for my hopes of playing regularly for Brazil, especially with the World Cup at home in two years' time.
"That is my aim. I've worked hard for four years to establish myself in the national team. It has taken that long but now I feel I have a good relationship with the coach and I want to keep working hard, so I remain in the side.
"There are times when you look at your life and realise how lucky you've been. I've played for a great club in Corinthians and been successful. I moved to Shakhtar and that turned into a great move too.
"There was talk about Barcelona and Arsenal before but now Chelsea are interested.
"If the next step of the adventure is England, then I would be excited by that."
The burgeoning Brazilian presence at Chelsea, with David Luiz and Ramires both at Stamford Bridge, has enabled the patently gifted 23-year-old a unique insight into the west London Premier League club, and the attacking midfielder suggests the opportunity to work in a vibrant city and play for a club of European stature is hugely appealing.
"I have friends in the Brazil side who play for Chelsea, like David and Ramires," he continued.
"All they talk about is the thrill of being in a city like London and playing for a club like Chelsea.
"I've known David since we played together in the Brazil Under-20 side and he talks about what Villas-Boas is trying to build at Chelsea.
"He and Ramires feel he wants a core of young players who can mature and grow together but also be successful.
"David says how the coach takes a real interest in all his players, how he can adapt different cultures together and bring the best out of them.
"Then obviously there is life in London. David and Ramires say there's nothing like it anywhere else in the world - it's exciting and challenging at the same time."
According to the Daily Mirror, Chelsea will have to spend in excess of £20 million in order to land Willian but should the Blues match Shakhtar Donetsk's valuation there seems to be a genuine desire to conclude a deal.