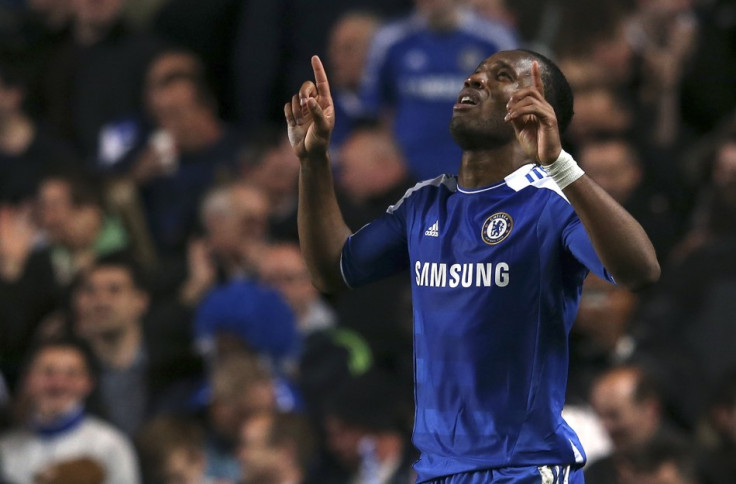 Didier Drogba will leave Chelsea at the end of the season, even if he wins the Champions League with the club, according to the Daily Mail. The report says Drogba is expected to join former team mate Nicolas Anelka at Chinese outfit Shanghai Shenhua in the summer, in a two year deal worth £130,000 a week after tax.
The 34 year old has been in stunning form of late, scoring the opener in the FA Cup semi-final win over Tottenham at the weekend and the only goal in Wednesday's massive win over Barcelona in the first leg of the two sides' Champions League semi-final. Drogba joined Chelsea from Marseille in 2004 and has 155 goals and 71 assists to his name from 336 appearances.
It is understood Drogba was willing to stay at Chelsea but the Blues offered him only a one year extension, while he received a better deal from Shenhua. Furthermore, Anelka, who was recently appointed as player-coach of the big-spending Chinese club, is keen to work with the striker again. Shenhua have even reserved the No.11 jersey for the striker.
"I hope Selim Benachour [Maritimo] and Didier Drogba will quickly join us,'' ESPN quoted Anelka as saying,"I hope they come. It is up to the club to see if we have the right means.''
Meanwhile, Drogba said Wednesday's game against Barcelona was one of the toughest matches of his career, both physically and mentally. The Catalans had 79 percent of the possession and the Chelsea forward had to help the team in defence as much as in attack.
"It was a difficult game for me because Barcelona had such a lot of possession. It's quite difficult to play against them. They are a really good team, a very good team. Every time I got the ball I looked up and the goal seemed really far away, like on the M25 [London's orbital motorway]," The Sun quoted the player as saying. However, the Ivorian is happy he could score the winner.
"It was one of the most important goals of my whole career - and it was good it came just before half time," he stressed.
Drogba has often been considered the ideal man for big games as he often makes an impact in such matches but the striker insists he loves each and every opportunity to play.
"No, I just love the game. I just love playing. Every time I have a chance to perform I want to do my best. I know I am lucky to be on pitches like Wembley and Stamford Bridge, because so many players want to be a professional and have the same career and don't [get the chance]. So I try to enjoy it. I am really happy every time I go on the pitch," he added.