Jamie Redknapp believes that Chelsea still need a striker in the summer, despite Fernando Torres putting in a top performance for the club in their Europa League final win over Benfica.
With Jose Mourinho the favourite to take over as manager from Rafa Benitez at the end of the season, the Blues will no doubt be set for a serious boost in the summer as they look to challenge the Manchester clubs for the Premier League title.
Torres has endured a torrid time since his move to Chelsea in the 2011 January transfer window; while the striker has scored 22 goals this season, he remains open to screwtiny having failed to replicate his performances during his spell at Liverpool.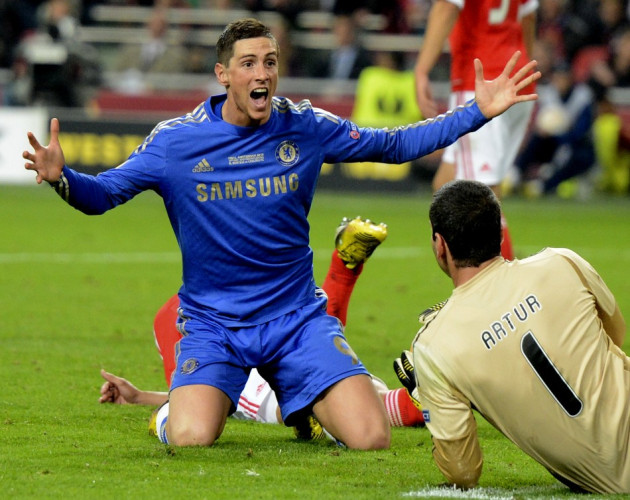 And Redknapp believes that though his performance last night was brilliant, Mourinho will be looking for another striker come the summer.
"Fernando Torres' goal was like a blast from the past," he said in the Daily Mail. "The strength he showed to get past Luisao was something we saw him do at Liverpool so many times.
"But it's the first time I've seen him do that in a Chelsea shirt. Last night was the best I've seen him play for Chelsea.
"He worked hard, was aggressive and got his reward. That should be a given in every game, but it's not always been the case."
He continued: "Despite Torres' performance, Chelsea are still a centre forward away from challenging for the title. Jose Mourinho will know that.
"If they can add someone like Edinson Cavani, Radamel Falcao or Wayne Rooney to their team, they will be a force to be reckoned with again."
Chelsea's season has been one of mixed success; while they can claimed the Europa League through Branislav Ivanovic's late goal, the Blues struggled to contest for the league title, though a mid-season change in managers deeply affected their cause.
While they lifted the Champions League trophy last season, fulfilling one of Roman Abramovich's goals, the Russian billionaire will have watched on with disappointment as Chelsea became the first side in history to go out of the group stages the following season after winning the competition.
And this could ensue another busy and expensive summer for the club who are currently living in hope of a return for 'the Special One' this summer.