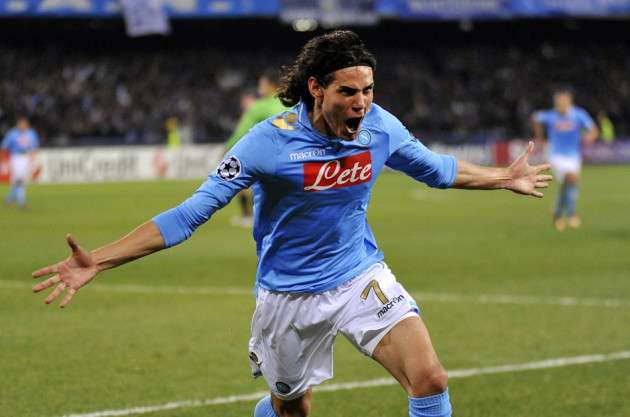 With the defeat of Manchester City on Monday, Chelsea stamped their emergence from a blip which was threatening to engulf their season, much like at the same stage last season. However, there is a lurking suspicion that all is not well at Stamford Bridge.
Manager Andre Villas-Boas' hopes rest on weakening the power base of the senior players and will look to do that with some signings of his own.
Napoli's highly-rated striker Edinson Cavani is reportedly a Chelsea target with Italian newspaper Tuttosport claiming that the player's agent was contacted by the Londoners.
With Nicholas Anelka sealing a move to China with Shanghai Shenhua and Didier Drogba set for International duty with Ivory Coast for the African Cup of Nations, the Blues will be without sufficient firepower up front, especially if Fernando Torres fails to find form.
Cavani, on the other hand, is in the middle of a good run and is rated as one of the best strikers in Europe at the moment. Napoli are unwilling to sell their priced-asset, but reports suggest they are open to offers around the region of £50 million.
Chelsea's previous £50 million gamble has yet to yield results. Torres is approaching the anniversary of his deadline move from Liverpool but has managed to score only three Premier League goals for the club in 25 appearances. It led to talk of a possible sale in January, but Villas-Boas was quick to throw his support behind the misfiring Spaniard.
The Portuguese manager stated that the player was "not for sale at any price" and seemed to consider it a personal challenge to help the 27-year-old return to his devastating best.
"This is a talent that is never in doubt. So we have to be very, very patient and I'm sure that we can turn this around," the manager said. "We'll have to continue to push. That's one of the prerogatives of the manager, to try to get the best out of everybody. It takes time."
Elsewhere, The Sun has reported that Drogba is set to follow Anelka to China, with claims that the club Dalian Aerbin is offering a £200,000 per week for the 33-year-old, while Chelsea are only prepared to offer a one-year extension worth £125,000 a week.
The Sun also touts Frank Lampard to leave as he is unhappy with his treatment by Villas-Boas.