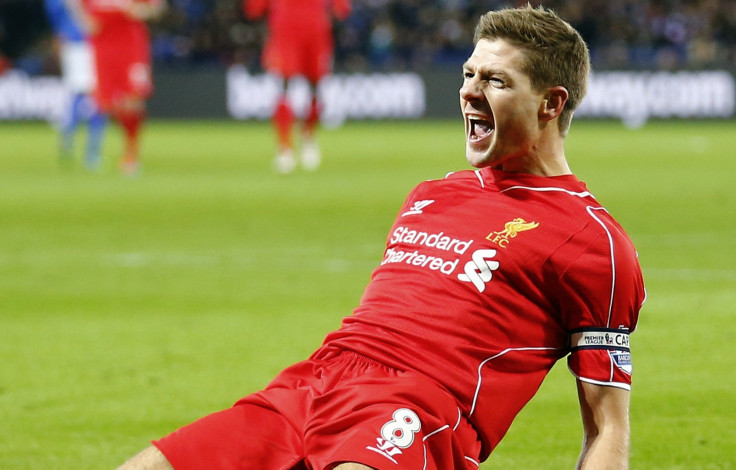 Chelsea manager Jose Mourinho has paid glowing tribute to Liverpool skipper Steven Gerrard and credited the midfielder for helping him become the manager he is today.
The Reds face the newly-crowned Premier League champions on Sunday, 10 May, in the Premier League and will be giving them a guard of honour at Stamford Bridge.
It is the last time Gerrard will play in the Premier League against Chelsea as he is leaving Liverpool at the end of the season to join LA Galaxy in the MLS.
But Mourinho has admitted that he would like to honour a champion footballer, who was so hard to beat that plotting how to beat him made him a better manager.
The Portuguese manager, who is a big fan of the midfielder, has revealed that he tried to sign him when he was the manager of Chelsea, Inter Milan and Real Madrid, but the Anfield legend always turned him down due to his loyalty to the Merseyside club.
"Liverpool are a giant club and speaking about Liverpool honouring the champions, it is my time to honour this champion. It's my time to honour Steve Gerrard and say, with opponents like him, that I am the manager I am," Mourinho is quoted as saying by the Mirror.
"I learn through my players and my best opponents. Steven Gerrard is for sure one of my favourite enemies and for sure my dear enemy, the one who made me a better manager."
"To stop him, or try to stop him, has been very, very difficult. I lost against him, I won, I drew. I am very sad it's the last time I play against him. I need people like him to make me a better coach," the former Real Madrid manager explained.
"I am sad he is leaving the Premier League, the same as our Frank Lampard. But Frank is a Chelsea legend and it's a different situation, because Steven was always on the other side."
"I tried to bring him to Chelsea. I tried to bring him to Inter. I tried to bring him to Real Madrid. But he was always with the enemy. I want to honour him and I hope Stamford Bridge has the same feeling."
The manager, who refers to Gerrard as his "dear enemy" has revealed that the former Three Lions skipper was close to signing for Chelsea during his first stint at the club.
"The first time with Chelsea was the closest, but he told me has a Red heart. It was difficult to do it. He wanted to do it from the view of football reasons, but he CAN'T do it - and that's fantastic."
"He's had an amazing career with his (own) people. He refused to play in other big clubs, other big leagues to play only for Liverpool and this is a feeling that stays together."
"Who knows, I may play against Steven as a Liverpool manager someday," Mourinho concluded.