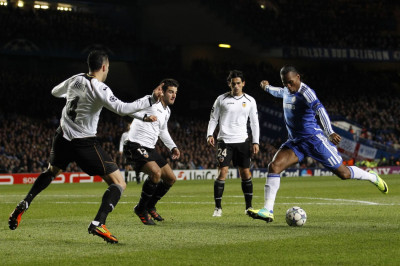 Chelsea had a sweeping victory over Valencia at Stamford Bridge on Tuesday in the Group E match and they advanced to the Champions League knockout stage with the win. Didier Drogba scored two goals for the team in each half of the game and led the team to a 3-0 victory against Valencia.
Andre Villas-Boas could breathe easy on Tuesday as his boys turned out definite winners leaving the Spanish side out of the competition and came out as Group E winners. The decision of Villas- Boas to hand over the midfield responsibility to Ramires, Raul Meireles and Oriol Romeu, was well paid as Chelsea could win and progress from the group stage.
For Chelsea, Drogba scored the first goal in the third minute of the game despite the diagonal dives of Valencia goalkeeper Diego Alves to thwart it. The weakness of Valencia was evident as any attempt by the Spaniards to come back to the game was spoiled by the timely goal of Ramires at the 22 minute.
Drogba scored the third goal at the 76 minute and it was a sweeping victory for Chelsea as the Group E winners.
Have a look at the moments of action unveiled in the field on Tuesday during the Chelsea-Valencia match.