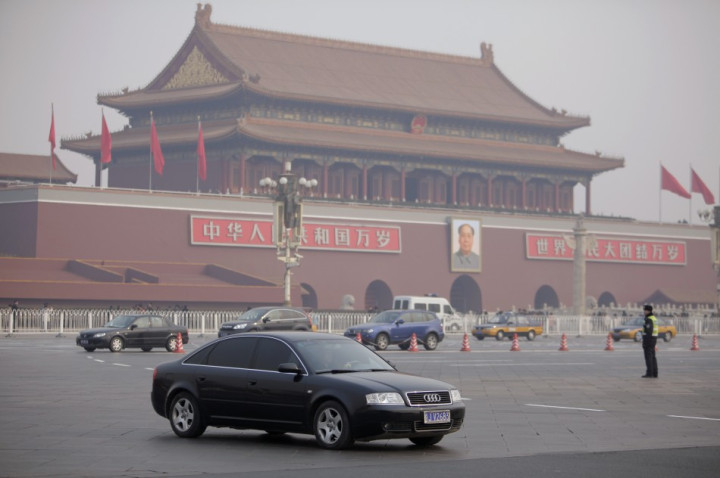 Under China's new leadership of Xi Jinping, automotive companies and industry related firms are saying that the country is looking to diversify its stronghold in the auto sector by promoting research and development (R&D) and not just in manufacturing.
Jason Yang, one of the chief R&D specialists in Chengdu China for US car audio and entertainment company Harman, summed up the transition by saying "the new, as well as old, government has a strong message of moving away from 'Made in China' to 'Created in China.'"
The transition is extremely evident in Chengdu.
China's east coast, as well as a few major cities dotted in north, South and West China have a heavy auto manufacturing existence and government officials told IBTimes UK that decision makers on the national level have been looking to expand auto related capabilities in Chengdu.
"The government is looking to create a major hub for the auto industry in Chengdu; not just in manufacturing and by setting up factories but by creating a centre point for all technology and R&D development for the companies as well. We're no longer just looking for just factory related operations; we are looking for being at the centre of new technological creations," says Chen Xiao Ming, head of auto industry development for the Chengdu government.
The Chinese government has constructed the Chengdu Economic and Technological Development Zone (CDETDZ) in the Longquanyi District, which is nine districts in the Sichuan capital of Chengdu.
It is set to become a new type of base of the national automobile effort by the Ministry of Industry and Information Technology in 2010 and is one of two provincial 100bn yuan (£10bn) industrial parks.
Even though the CDETDZ is only one 'zone,' it is set to grow exponentially over the next few years, as it has a total planned area of 56.345 square kilometres. To put this into perspective, this is roughly half the size of Manchester, UK.
Over the years, Western automakers have flown to Chengdu and have set up joint ventures with the state-owned enterprise FAW Group Corporation, which in turn has boosted certain auto company production.
"We have a production platform with the capacity of 1mn vehicles that is taking shape as the major pjects of FAW-Volkswagen, FAW0-Toyota, Geely and Volvo have been put into production. The exiting, constructed and planned production capacity amounts to 1.25mn vehicles, including sedans, buses and jeeps. It is the most important gathering place and core for the automobile industry of Chengdu and Sichuan," says Ming.
In a move that is set to create diversity, in the face of possible falling exports and manufacturing stemming from the global economic crisis, Chengdu is strategically positioning itself to diversify its capabilities in the industry by setting up a hub for R&D at the same time. CDETDZ has managed to introduce 8 automobile R&D and test centres, including safety test centres for Volvo and Harman. It also owns one national technological centre and 11 provincial technological centres and two municipal engineering research centres.
China's auto sales rebounded in October, according to the China Association of Automobile Manufacturers. Sales in the world's biggest auto market rose 6.4 percent to 1.3 million vehicles, recovering from the first monthly decline of the year after it contracted by 0.3 percent in September.
Harman, which makes car stereo equipment and entertainment systems, says that Chengdu is the ideal place to manufacture as well as house R&D.
"The rapid expansion of the auto industry in China, especially in Chengdu, is ideal for a company like us to position ourselves. We are close to all the major automakers and can complete the business cycle of R&D, manufacturing and delivery in quick succession," says Yang.
"On top of that, the government is hugely supportive in developing the industry and our expansion so it makes sense to root ourselves in CDETDZ," he adds.
The move paid off for Harman, as it now also supplies technical support to clients, such as Volvo, directly in the West China region, after moving to Chengdu. Since March this year, it has 70 employees but is looking to employee over 400 employees in total over the next five years as it expands its Harman International China Western Research and Development Center.
Ming also reveals in an anecdote about how rapidly Western groups are able to set up mass production and R&D capabilities, with the huge support of the government from provincial to national level.
"Bosch's car parts and auto services arm has a factory in China but only announced on 3 March 2011 that it was considering Chengdu, out of 6 other cities in China, to primarily house its R&D and manufacturing line. After several bid rounds, it said in August 2011 that it would set up its business in Chengdu," says Ming.
"Since then, we are building all the factories for production lines and R&D buildings for Bosch and by 3 March 2013, Bosch should be going into production. It is very exciting because it is such a short cycle," he adds.
For more IBTimes UK coverage from Chengdu, China - check out the following links:
Chengdu China Special: Rare Q&A with Maipu Group Vice President
Chengdu China Exclusive: Tax Breaks and Preferential Policies Push Western Investment
Chengdu China Exclusive: UK Government and Businesses behind Investment Curve
Chengdu China Special: Damco Says US Exports Improving
Chengdu China Special: Going back to 263 BC in Jin Li [SLIDESHOW]
Chengdu China Special: Ancient Meets Modern in Kuan Zhai Xiang Zi [PICTURES]