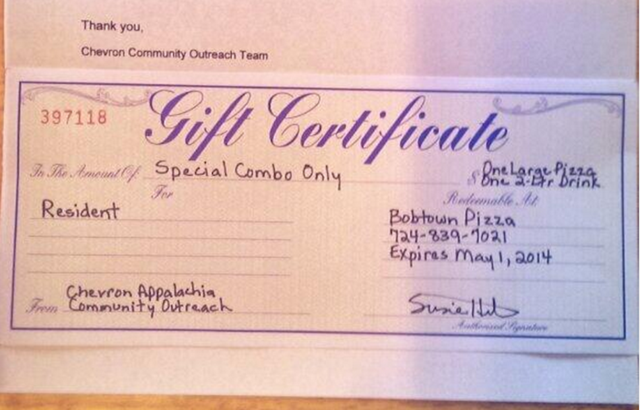 Energy corporation Chevron have apologised for a dangerous fracking explosion by offering residents of a small American village a free pizza each.
That's right, a pizza. Forget the toxins, the fumes and the environmental damage, your next large pepperoni and bottle of pop is on the house!
Residents of Bobtown, Pennsylvania were awoken last week when Chevron's nearby fracking site exploded, leaving one rig worker presumed dead and exposing other workers and the surrounding community to huge risks.
Local resident John Kuis told the Pittsburgh Post-Gazette: "The house just sort of shook and there was a big loud bang" while another local likened the explosion to a "jet engine going five feet above your house".
Chevron sent a letter to approximately 100 residents with a coupon for a free pizza and bottle of fizzy drink at Bobtown Pizza.
Part of the letter read:
"Chevron recognises the effect this has had on the community. We value being a responsible member of this community and will continue to strive to achieve incident-free operations. We are committed to taking action to safeguard our neighbours, our employees, our contractors and the environment."
A Chevron spokesman then told Gizmodo that the pizza offer was a "token of appreciation for their patience".
"The situation at the Lanco well site in Pennsylvania remains serious and teams are working around the clock to safely approach and shut in the well," the statement said.
"Recognising that our neighbours have been affected by these activities, we are out in the community every day to listen to and address concerns.
"We have also offered a token of appreciation for their patience during this time, and our commitment to the community goes far beyond this and our outreach is ongoing."
Residents better hurry and collect the offer though as it's a limited time only deal, lasting until 1 May.