FBI informant drug dealers Pedro and Margarito Flores have received reduced sentences for running a sprawling $2bn drugs empire because the pair helped American prosecutors catch notorious drugs baron Joaquin "El Chapo" Guzman.
The twin brothers, aged 33, were handed 14 years each for their operation, which Chief US District Judge Ruben Castillo said had "devastated" the whole country.
Security at their sentencing was beefed up with extra checks and a bomb-sniffing dogs sweeping for explosives.
Sentencing, Castillo warned they would be looking over their shoulders for the rest of their lives.
"Even though I am not going to sentence you to life, you are leaving here with a life sentence," he told them. "Each time you start your car [when you are out of prison], you are going to be wondering, is it going to start, or will it explode."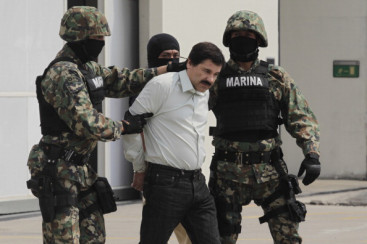 A contrite Margarito said in court: "I'm ashamed, I'm embarrassed, I'm regretful. There is no excuse."
Pedro also apologised. "I wanted to thank the United States [and federal agents]... for allowing the opportunity not to spend my life in prison," he said.
The pair have been described as the most valuable traffickers-turned-informants in history after they helped the FBI hunt down Guzman, leader of the vicious Sinaloa Cartel and one-time number 63 in Forbes magazine's The World's Most Powerful People list with an estimated $1bn (£670m) fortune.
The Flores brothers pleaded guilty to a count of drug conspiracy at a secret hearing in 2012 and would have faced life sentences had they not revealed details about Guzman and 50 other Mexican drug dealers.
In a plot that seems fit for Hollywood, the brothers used clandestine devices to record meetings with cartel leaders after originally telling the FBI they wanted to become informants in 2008.
They built their empire in a few short years in their twenties, drawing on their childhood friendships in Chicago's Little Village neighbourhood, reported PA.
By the late 2000s , they had smuggled $1.8bn — wrapped in plastic and duct tape — into Mexico, prosecutors say, organising their cartel from a Mexican farm.