In a breakthrough effort to deal with one of the darkest chapters in its checkered history, the city of Chicago has unanimously voted to create a $5.5m (£3.5m) "reparations" fund for victims of police torture, most of them African Americans.
It's the first city in the nation to establish such a fund for victims of police violence.
Notorious former police commander Jon Burge and his "midnight crew" of detectives pummeled, kicked, shocked and smothered at least 100 men in efforts to extract confessions from them between 1972 and 1991. Many were forced to make false confessions that landed them in prison for decades.
One victim, Darrell Cannon, was freed after serving 24 years in prison for a murder after a panel ruled evidence against him was tainted. He recounted how detectives played a kind of Russian roulette with him as they questioned him after his arrest, NPR reported. "The third time that I heard that click, the hair on the back of my head stood straight up because I honestly thought he had blew my brains out," said Cannon. "When that didn't work, they tried to hang me by my handcuffs, which were cuffed behind my back."
Chicago Alderman Proco Morena called passage of the bill creating the new fund an "historic day for Chicago, for this City Council and most importantly for the victims of some horrific behaviour that happened right here in Chicago — not in Iraq, not in Syria, but right here in Chicago."
Mayor Rahm Emanuel called the beatings a "stain that cannot be removed from our history." But, he added, "it can be used as a lesson of what not to do."
Announcement of the vote was accompanied by a roll call of emotional victims in the City Council chamber who received a standing ovation from politicians, friends and family, reports the Chicago Tribune.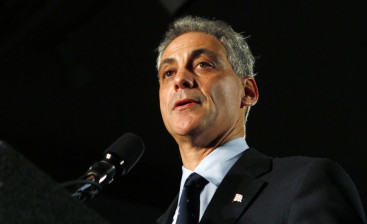 The city has already paid more than $100m in judgments and legal settlements to some victims. The reparations fund will compensate up to 80 others. Those with a credible account of torture will be paid $100,000. Other victims are expected to come forward.
The new ordinance will also involve formal apology and refers to other benefits that may include college tuition, counseling, job training and placement, and senior services. It will also create a permanent memorial recognizing the victims and will teach public school children about the Burge scandal.
The city fought complaints for decades brought by Burge victims. Finally, a Chicago police board investigation found evidence of torture and fired Burge in 1993, but no criminal charges were filed for torture. A special prosecutor appointed in 2002 found overwhelming evidence of torture by Burge and his crew, but concluded that the statute of limitations had run out. Burge was eventually convicted of perjury and served just over four years in prison. He currently lives in Florida and collects a police department pension, reports NPR.