Families of soldiers killed in the Iraq war said Tony Blair is responsible for "murdering" British soldiers as the possibility of court action looms over the former British prime minister. Reacting to the Chilcot report, some of the families of the 179 servicemen and women who died in Iraq said victims "died in vain" as lawyers representing the bereaved prepare for a possible court battle.
"Everything that we thought from the start has come out today. And I think they thought we were going to give up and walk away," said Rose Gentle, who son Gordon was killed in Basra in 2004.
Asked what she would say to Blair, she replied: "'Why did you kill my son? Why did you send my son away to be killed?' Because I hold him responsible for murdering my son."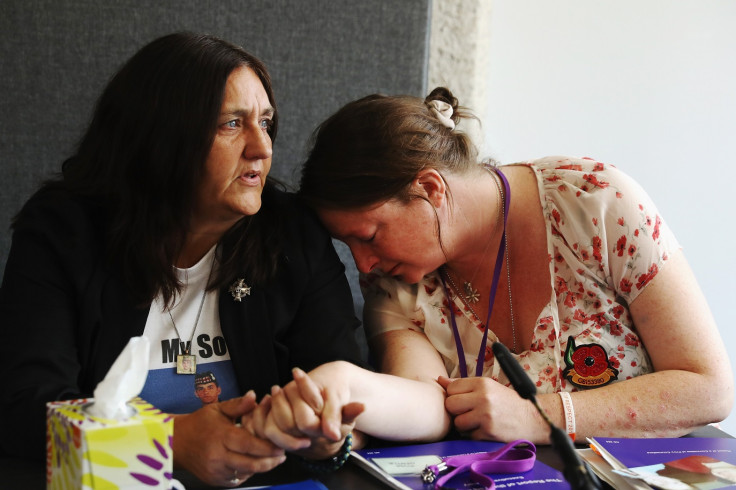 Roger Bacon, whose son Matthew was killed in 2005, read a statement on behalf of the families saying lessons should be learnt from the report. "Never again must so many mistakes be allowed to sacrifice British lives and lead to the destruction of a country for no positive end," he said.
"We were proud when our husbands, sons and daughters signed up to serve our country but we cannot be proud of the way our government treated them.
"We must use this report to make sure that all parts of the Iraq war fiasco are never repeated again, neither in a theatre of war nor in the theatre of Whitehall."
He called on the government to change the "twisted and confused" process by which the country goes to war before threatening legal action: "We reserve the right ourselves to call specific parties to answer for their actions in the courts if such process is found to be viable."
Bacon later told BBC Radio 5 Live: "We have a lawyer on board and we have to see what he wants to do next and see if there is anything to do by a legal process. It's not going to help me or my wife in dealing with the death of my son – the pain stays – but justice should be seen to be done."
Red Keys said simply that his son Lance Corporal Thomas Keys, who was four days away from his 21st birthday with he was killed in Iraq in 2003, "died in vain".
The families were speaking after Sir John Chilcot delivered a devastating dismantling of the build-up to the war, the military intervention and post-war planning.
Chilcot concluded the UK "Chose to invade before all options for disarmament had been exhausted" and that the government failed in its aim to stabilise the country.