Evidence submitted to the child abuse inquiry has accidentally been deleted following a technical error. Some information given to the inquiry set up by Home Secretary Theresa May and chaired by Justice Lowell Goddard was permanently lost when the Independent Inquiry Into Child Sexual Abuse (IISCA) website changed its address.
The site asked victims of historical sexual abuse to provide any information which could be relevant. However, all evidence submitted online between 14 September and 2 October was removed before being evaluated by the inquiry's engagement team because of the glitch.
The IICSA has now apologised for the error and is asking for anyone who provided details between the two dates to resubmit their information. A spokesperson said: "Due to a change in our website address to www.iicsa.org.uk on 14 September, any information submitted to the inquiry between 14 September and 2 October through the online form on the 'Share your experience' page of our website, was instantly and permanently deleted before it reached our engagement team.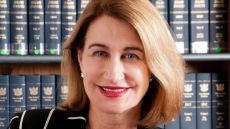 "We are very sorry for any inconvenience or distress this will cause and would like to reassure you that no information was put at risk of disclosure or unauthorised access. Due to the security measures on our website, your information cannot be found or viewed by anyone else as it was immediately and permanently destroyed.
"We would like to apologise again to anyone who submitted details to the inquiry during this time and to ask you to please resubmit your information through the online form."
The inquiry, which is looking into how seriously institutions took their responsibility to protect children as well as allegations of historical child abuse committed by high-profile names, was officially launched in July after a stuttering start following the resignations of its previous two chairs Fiona Woolf and Baroness Butler-Sloss.
Butler-Sloss stood down as chair in July 2014 over concerns about her links to the establishment, as her late brother, Lord Havers, was attorney general during the 1980s, when it is alleged a paedophile ring was operating in Westminster. Her replacement Woolf also resigned because of her connection to the former home secretary Leon Brittan, who died in January aged 75.
The inquiry promised to be the "largest and most ambitious" Britain has ever seen and is expected to be completed in 2020.
The Home Office is asking people whose evidence was submitted between the relevant dates to call the inquiry helpline on 0800 917 1000 and submit the information over the phone, or by email at contact@iicsa.org.uk.