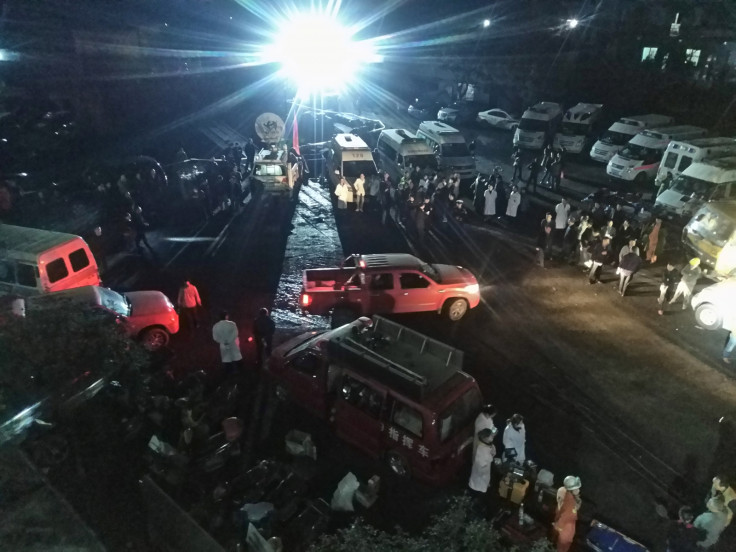 A deadly gas explosion at a coal mine in China this week has taken the death toll to 33 after some of the missing miners were found early on Wednesday (2 November) morning.
According to local media reports, rescuers retrieved the bodies of 15 missing miners, who were trapped at the underground mine, two days after the blast, in southwest Chinese city of Chongqing.
The incident took place at around 11.30 am local time on 31 October (3.30am BST) at a privately-owned Jinshangou Coal Mine in Lausi town, Yongchuan district.
Only two of the 35 miners underground were reported to have survived the blast, leaving 33 trapped in the pit. At least 13 miners were already reported dead on Monday, while five more bodies were recovered out of the shaft on Tuesday (1 November).
Local news agency Xinhua reported that more than 200 rescue workers, including fire fighters, police and rescue specialists were sent to the blast site to locate the missing miners. They were "working around the clock" to dig through debris and search for survivors, it reported.
The State Administration of Work Safety (SAWS) has demanded an investigation into the cause of the accident and has called those who are found responsible to be punished. Local authorities in the region have also ordered smaller mines in Chongqing to shut down its production temporarily until safety inspections are cleared.
Preliminary probe into the accident reportedly found that the mine had exceeded its mining boundaries and had inadequate and faulty equipment, poor ventilation and disorderly management, Xinhua reported.
"Gas explosions inside mines are often caused when a flame or electrical spark ignites gas leaking from the coal seam. Ventilation systems are supposed to prevent gas from becoming trapped," the Associated Press reported.
China's mining industry is thought to be notorious for such accidents and has long been considered among the world's deadliest. According to SAWS, 598 people have died in mining accidents in 2015 in the country that is the world's largest producer and consumer of coal.
A blast in September killed at least 19 miners in northwest China, while in March, a gas leak in northeastern province of Jilin killed 12. Earlier in January, four miners were rescued after 36 days of being trapped underground where at least one miner was dead.