Chinese ships have reportedly quietly left the disputed fishing grounds at Scarborough Shoals in the South China Sea. The departure is said to have come following Philippine President Rodrigo Duterte's recent visit to Beijing to strengthen relations, where he also bid "goodbye" to US ties.
The latest development would allow Filipino fishermen to get back to the rich fishing area that China had seized almost four years ago, escalating regional tensions in the waters.
The Philippine coast guard reported not spotting the Chinese ships at the disputed waters in the last three days, Philippines Defence Secretary Delfin Lorenzana said.
"Since three days ago there are no longer Chinese ships, coastguard or navy, in the Scarborough area," Lorenzana told reporters on Friday (28 October). "If the Chinese ships have left then it means our fishermen can resume fishing in the area."
Deputy US Secretary of State Antony Blinken told reporters in Beijing on Saturday (29 October) that China's withdrawal from Scarborough Shoal was a "positive development" that Washington has welcomed, even if it were an apparent result of Duterte's bilateral talks with China.
He also added the US would continue with its freedom-of-navigation exercises in the hotly contested waters that challenge China's maritime and territorial claims.
However, according to State Department Spokesman Mark Toner, reports of whether China has actually left the region needed to be validated and the US was assessing it.
"We hope it is certainly not a temporary measure. We would like it to be a sign that China and the Philippines are moving toward an agreement on fishing access at Scarborough that would be in accordance with the July 12 arbitral decision," the Associated Press cited Toner as saying in Washington.
Neither the US nor the Philippines are reported to have explained the circumstances under which the Chinese vessels left the shoal. Manila and Beijing too have not clearly said if the two countries had reached an agreement regarding this.
China's Foreign Ministry spokesman Lu Kang too did not talk about the coastguard withdrawal, Australian Broadcasting Corporation reported.
"[China and the Philippines] were able to work together on issues regarding the South China Sea and appropriately resolve disputes," Lu told a regular briefing.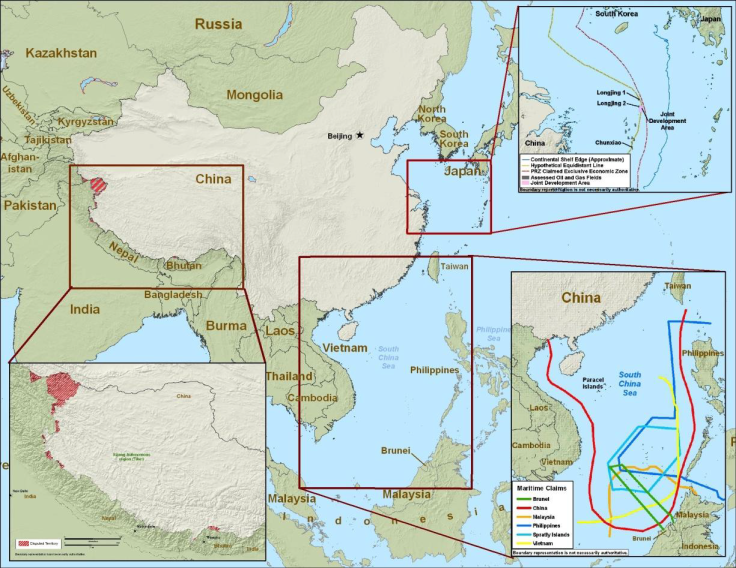 Both the countries locked horns over fishing rights in the Scarborough Shoal, where China allegedly chased away Filipino fishermen and cordoned off the waters claiming it to be its territory. The lagoon is rich in fish.
Manila challenged Beijing over its maritime claims in the UN-backed The Hague court, which ruled in the Philippines favour, rejecting China's sweeping claims. But China said it would neither accept nor abide by the international tribunal ruling.