China accuses Japan of trying to 'confuse' South China Sea dispute amid joint patrols with US
Japan and US accept tribunal ruling that states China has 'no legal basis' to claim resources in the South China Sea.
China has accused Japan of attempting to "confuse" the situation in the South China Sea, amid announcements from Japan that it would be stepping up patrols in the disputed waters alongside the United States.
During a visit to Washington on 15 September, Japan's Defence Minister Tomomi Inada confirmed that they would also help build the capacity of coastal states in the South China Sea. However, China has continued to denounce interference in the South China Sea dispute by the United States and Japan, insisting that the waters belong to them and that the issue should be resolved through talks between the countries directly involved.
Chinese Foreign Ministry spokesperson Lu Kang said on 19 September: "Let's have a look at the results of Japan's throwing things into disorder over this same time period... trying to confuse the South China Sea situation under the pretence of [acting for] the international community."
China claims most of the energy-rich waters, which also host roughly $5tn in ship-borne trade annually. Brunei, Malaysia, the Philippines and Vietnam have also claimed parts of the South China Sea.
"Japan's actions have simply pushed other countries away from it, and it has failed to compel other nations to see its point of view," Kang added. "China is resolute in its determination to protect its sovereignty and maritime interests."
Tensions have been rising in the region following The Hague's ruling against China in July, which noted that they have "no legal basis" to claim resources in the South China Sea. China has refused to recognise the ruling and has been increasing military activity in the region, alongside issuing a warning to their military, police and public to prepare for a "people's war at sea".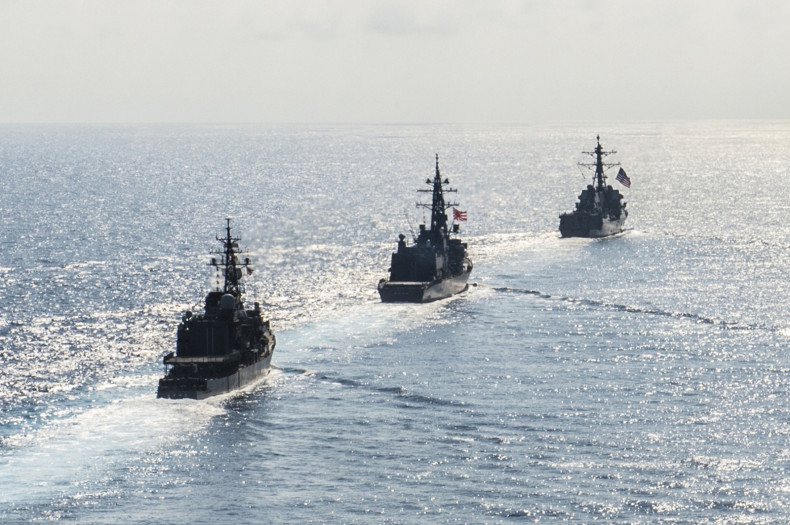 Despite this, Japan's Inada met with her US counterpart Defence Secretary Ashton Carter and agreed that the ruling by The Hague over the territorial dispute is final. China and the US agreed to uphold freedom of navigation in the waters and emphasised the importance of maritime operations, angering China.